Author Discussion with Levi Rickert
August 18 @ 6:00 pm

-

7:00 pm

$10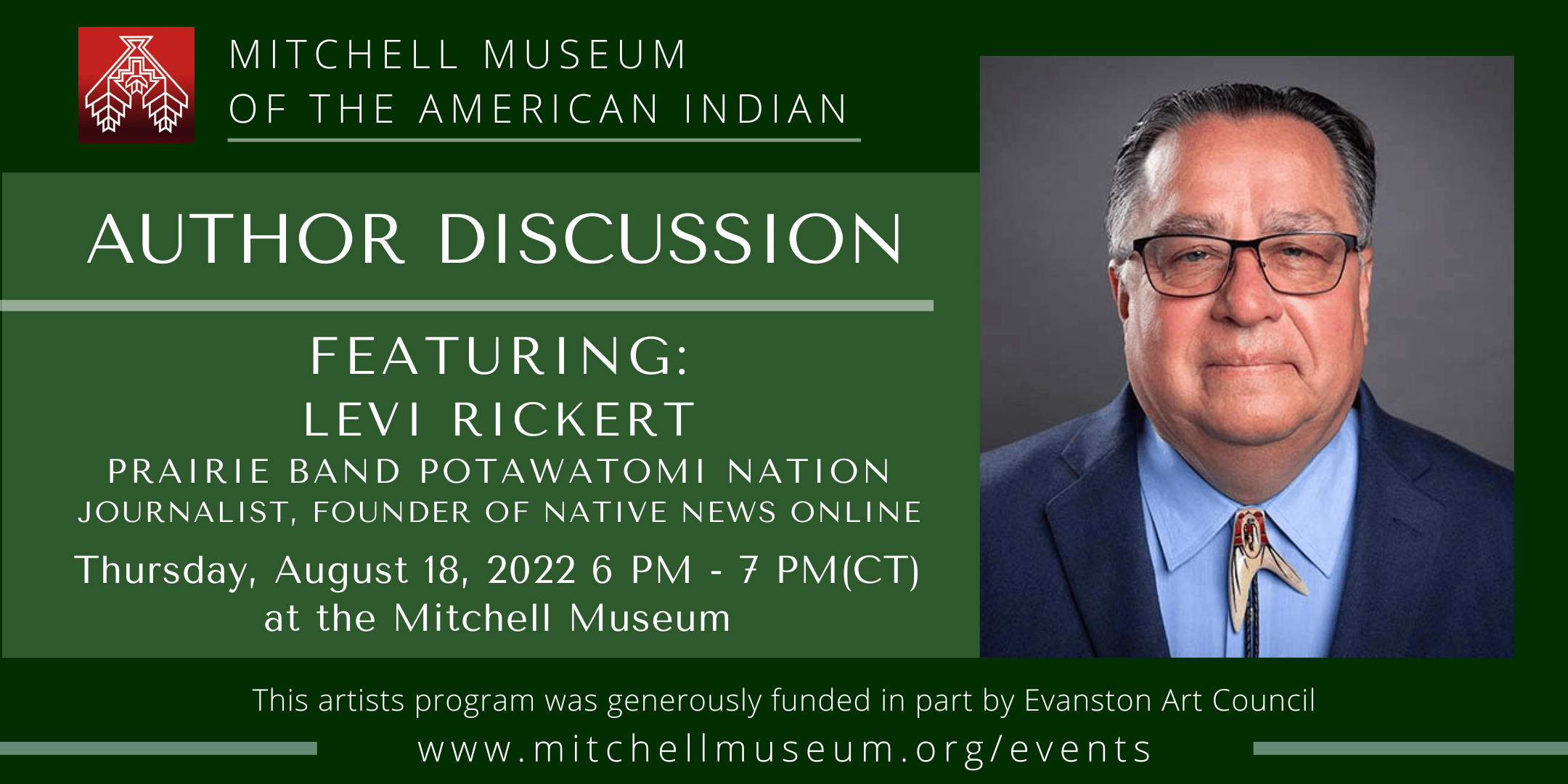 Join us on
Thursday, August 18th at 6:00 p.m.
 as we welcome
 Journalist and Founder of Native News Online Levi Rickert
 to the Mitchell Museum of the American Indian. We invite you to this in-person conversation and Q&A to celebrate Rickert's work and the release of his
 first book 
Visions of a Better Indian Country: One Potawatomi Editor's Opinions.
Levi Rickert, a citizen of the Prairie Band Potawatomi Nation, is a Native American journalist, who founded Native News Online in February 2011. 
Since then, Native News Online, with over three million readers who come to its website annually, has become one of the most read daily Native American publications in the country. In October 2020, he co-founded Tribal Business News. 
Since the beginning of Native News Online, Rickert has covered stories on dozens of Indian reservations, White House tribal nations conferences and congressional hearings in Washington, D.C., and events throughout Indian Country. 
With a social media following of over 500,000, Rickert has become a strong voice in Indian Country and is often called upon by other media outlets as an expert to discuss American Indian affairs. 
While an author with essays in three books, his first book Visions of a Better Indian Country: One Potawatomi Editor's Opinions was published by Indian Country Media, in April 2022. 
This intimate conversation with Rickert is free for Mitchell Museum Members and $10 for non-members. Admission for Native citizens is always free. Tickets can be purchased in advance or onsite.    
This program was generously funded in part by Evanston Arts Council.
For more information about this program, please contact: [email protected] | (847) 475-1030 | www.mitchellmuseum.org/events/
Related Events