Rasin Sakre – Coucoutte – Sacred Root
March 9 @ 12:00 pm

-

April 20 @ 6:00 pm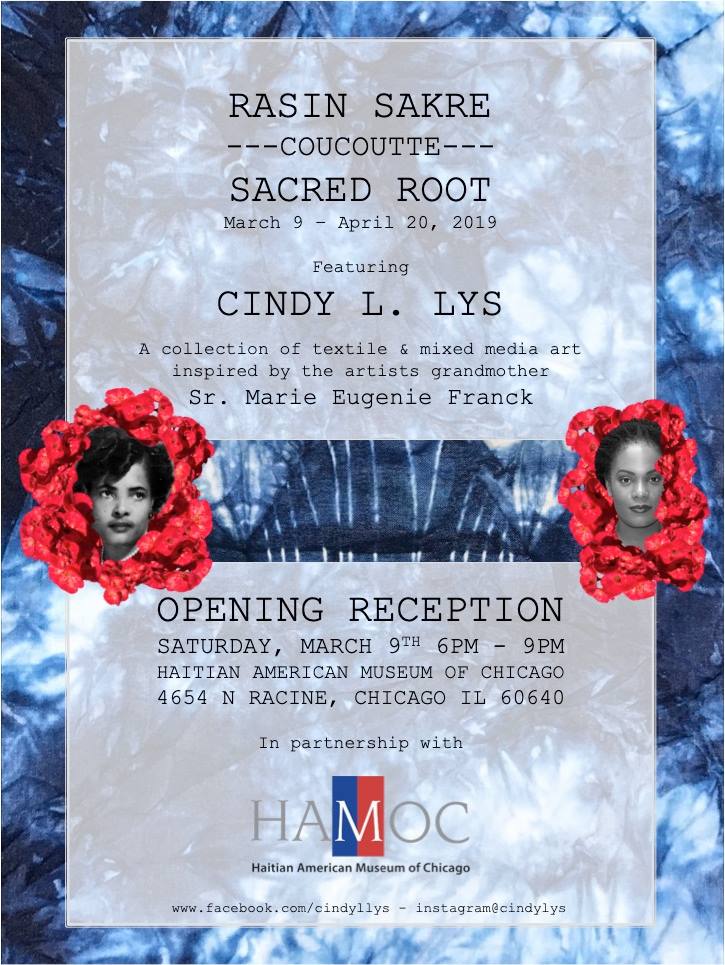 RASIN SAKRE
COUCOUTTE
SACRED ROOT
A collection of textile & mixed media visual art inspired by the artists grandmother Sister Marie Eugenie Franck. The artist explores life, legacy and grief in an intimate portrayal of love and loss.
ABOUT THE ARTIST
Cindy L. Lys is a Haitian-American emerging visual artist and a clinical social worker working on the south side of Chicago. Cindy's work explores textile designs, indigo vat dyeing, Japanese Shibori techniques and is inspired by Haitian sacred art, African and Afro-Caribbean spirituality. She explores the symbolism of black spirituality; the mythology of a people as moral and spiritual foundation of self-knowledge, self-empowerment and ethical life. Delving into the complementarity of Haitian religiosity through its syncretism with Roman Catholicism, Cindy destabilizes the stigma commonly attached to Haitian Vodou and the black sacred cosmos.
ABOUT SR. MARIE EUGENIE FRANCK
Marie was a renaissance woman who was fulfilled through the comfort of others in their time of need. She was a social worker, nurse, activist, artist, community leader and mentor. Marie pursued and excelled in several creative pursuits. Her culinary skills were unmatched. She enjoyed creating elaborate cakes for momentous occasions, gratified by the joy her cakes brought to others. She enjoyed art, painting, theater, music and singing. She enjoyed designing clothes and was a skilled hairdresser. For well over five decades she worked in the fields of nursing and social work in Haiti and the United States. She was a faithful patriot of her home country of Haiti and immigrated to the United States in August 1978. Marie loved God above all things. Raised Roman Catholic, she converted to Seventh Day Adventism in 1974. She is fondly remembered as an influential, selfless and nurturing figure among her family and congregation.