Ida B. Wells Festival
June 25, 2022 @ 8:00 am

-

2:00 pm

FREE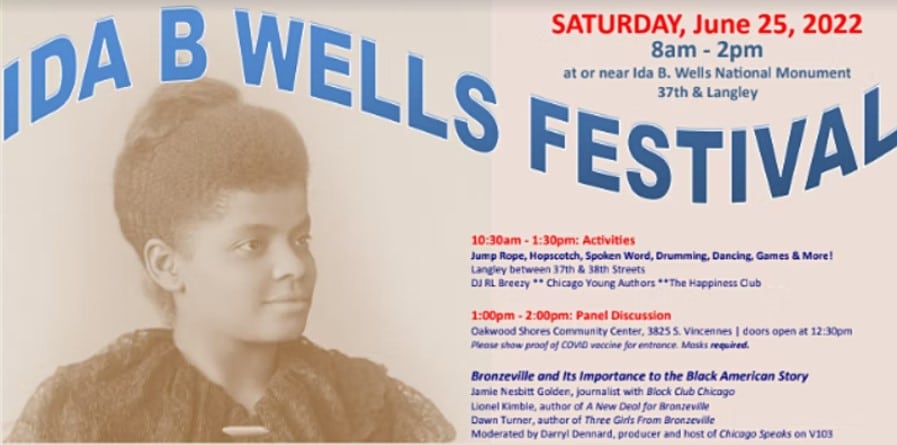 IDA B. WELLS FESTIVAL – A CELEBRATION FOR ALL AGES. Family fun to enjoy poetry, music, hopscotch, face painting, Panel Discussion 1PM
SATURDAY, June 25, 2022 8am – 2pm at Ida B. Wells National Monument 37th & Langley
Celebrating her 160th Birthday
8:00am – 9:00am : Morning Meditation and Healing Ritual Led by Sylvia Ewing – Media personality, poet, and certified meditation teacher At the Ida B. Wells National Monument, 37th & Langley (Remember to bring something to drink and a folding chair or blanket)
9:30am – 10:30am: Walking Tour of Bronzeville Ida B. Wells Sites Led by Bernard C. Turner – author of A New View of Bronzeville Franklin Cosey – Gay – co – founder, Chicago Race Riot of 1919 Commemoration Project Shermann "Dilla" Thomas – founder, Chicago Mahogany Tours Meet near Sixth – Grace Presbyterian Church at 35th & Cottage Grove. Tour will end at the Ida B. Wells National Monument ( Remember to bring something to drink)
10:30am – 1:30pm: Activities Jump Rope, Hopscotch, Spoken Word, Drumming, Dancing, Games & More! Langley between 37th & 38th Streets DJ RL Breezy ** Chicago Young Authors **The Happiness Club
1:00pm – 2:00pm: Panel Discussion Oakwood Shores Community Center, 3825 S. Vincennes |
*REGISTER to ATTEND PANEL DISCUSSION from REGISTER TAB.
Doors open at 12:30pm Please show proof of COVID vaccine for entrance. Masks required. Bronzeville and Its Importance to the Black American Story Jamie Nesbitt Golden, journalist with Block Club Chicago Lionel Kimble, author of A New Deal for Bronzeville Dawn Turner, author of Three Girls From Bronzeville Moderated by Darryl Dennard, producer and host of Chicago Speaks on V103
Note: Purchase books before June 25th and bring to the event. They are available at Seminary Co – op Bookstore at 5751 S. Woodlawn and all other book outlets.
SPONSORS Bronzeville Historical Society, Bronzeville Trail Task Force, Chicago History Museum, Chicago Race Riot of 1919 Commemoration Project, Illinois Tech, The Community Builders, The Ida B. Wells Memorial Foundation, Wyn – Win Communications
Festival organized by Ida B Action Committee: Tony Burroughs, Dan Duster, Michelle Duster, Eve L. Ewing, Khari Humphries, Lionel Kimble, Robin Robinson, Bernard C. Turner, Sherry Williams For more information about Festival contact bronzevillehistoricalsociety@gmail.com
Related Events