Kalnas Ensemble Concert
September 17, 2022 @ 6:00 pm

-

9:00 pm

$15 – $45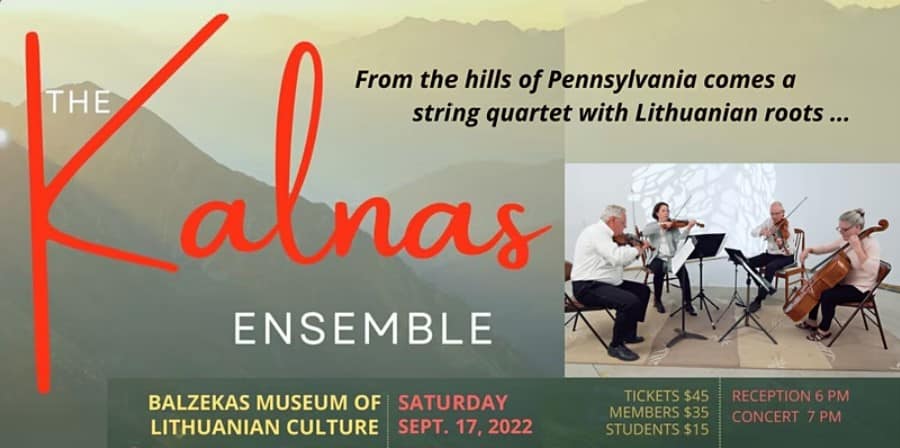 Balzekas Museum welcomes the Kalnas Ensemble string quartet featuring original compositions inspired by ancient Lithuanian folk music
On Saturday, Sept. 17, 2022, the Balzekas Museum of Lithuanian Culture welcomes the Kalnas Ensemble to Chicago for what promises to be a memorable concert and exploration of the origins of Lithuanian music. "Kalnas" means "hill" in Lithuania and points to the group's ethnographic and geographic origins. For the past 150 years, the hills of Pennsylvania have been home to many Lithuanian immigrants and their descendants, who settled the region, worked in the region's coal mines, and passed down their deep love of traditional Lithuanian music. Founded by Composer, Educator, and Violinist Dr. Stanley Chepaitis, the string quartet's repertoire will include Chepaitis's original compositions inspired by ancient Lithuanian traditional plyphonic folk songs called "sutartinės." Everyone is welcome to attend.
Time: Reception at 6PM – Concert at 7PM
Location: Amber Ball Room, Balzekas Museum of Lithuanian Culture, 6500 S. Pulaski Rd., Chicago IL 60629
For more information, please contact Sigita Balzekas 773-582-6500.
ABOUT THE KALNAS PRESENTATION
A performance by the Kalnas Ensemble is more than just a concert of passionately played music. It is an exploration of the roots of that music, bringing together aspects of folklore, psychology, history, and the physics of sound. For this program, the Kalnas Ensemble will initiate the audience into the unique ethos of Lithuanian traditional music through discussions and demonstrations of its stories, melodies, and rhythms as envisioned in Dr. Stanley Chepaitis' original works.Chepaitis dives deeply into his own Lithuanian heritage, and into the heart of the songs, stories, and dances which form the basis and inspiration for the music he creates. From the ancient Sutartinės, which come out of northeastern Lithuania, to more recent folk songs from around the country, this music paints a picture of ancient and medieval Lithuanian life in its focus on nature and the cycles of life. The string quartet's voices represent a search for the timeless Lithuanian soul and an attempt to bring that soul to modern ears. This performance by the Kalnas Ensemble is designed to offer an appreciation of the deep roots of Lithuanian culture and its impact on the culture of America and of all humanity in the 21st century.
Related Events