Paha Stitch: Reclaiming the name and restoring dignity to Lakota Beading
May 11 @ 6:00 pm

-

7:00 pm

FREE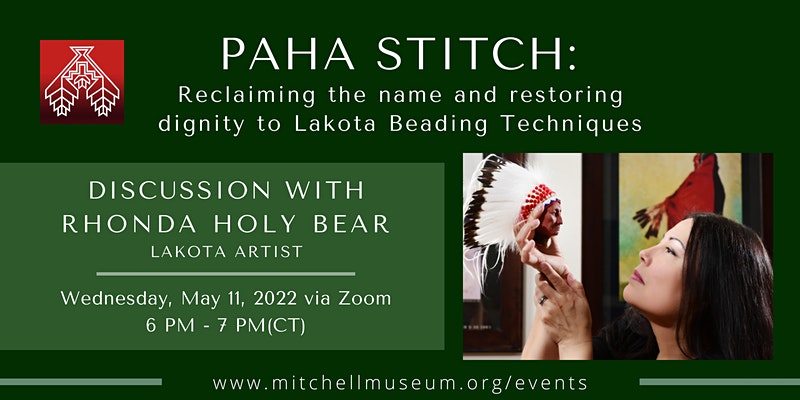 Rhonda Holy Bear will discuss her campaign to reclaim the Lakota language and eliminate the derogatory term "lazy stitch".
About this event
Words we use to define Indigenous histories and traditions have significant meaning and power. Many common yet offensive terms still used today have racist origins to describe Indigenous artistic techniques and practices contributing to cultural erasure. Award-winning Lakota Artist Rhonda Holy Bear is committed to restoring the appropriate terminology and language to describe beading techniques. In this session, Rhonda will discuss her campaign to reclaim the Lakota language and eliminate the derogatory term "lazy stitch" used to describe long-venerated traditional beading techniques. Rhonda will share how the offensive word was used to imply Lakota grandmothers were "lazy" women whose artwork was unworthy of respect. She will introduce the appropriate term, "Paha Stitch," meaning Hill Stitch or apahaka kagege used to reflect the Lakota values for industriousness and a strong work ethic. Rhonda invites others to change the name to Paha Stitch to honor and preserve the true legacy of Lakota/Plains women.
About the Artist
Rhonda Holy Bear was born in South Dakota in 1959. Rhonda is a Lakota transitional art figure artist. She has been creating figures for over 45 years. She spent her formative years on the Cheyenne River Sioux Indian Reservation in South Dakota and, later, in Chicago. Rhonda would eventually move to the southwest, settling in New Mexico and, most recently, Las Vegas, Nevada. As a youth, Rhonda researched the work of her ancestors in the vaults of the Chicago Field Museum. Her meticulous research and artistic gifts would establish Rhonda as a notable leader in her field. Her innovative transitional art figures, a combination of sculpture and traditional techniques, have elevated the prominence of Plains figures in contemporary Native American art. What were once primarily considered playthings are now highly collectible plains Indian art figures. Her work has been prominently displayed in museums and private collections in United States and around the world. Most recently, her work has been featured in The Metropolitan Art Museum of New York, The Smithsonian Institution's National Museum of the American Indian and at the Art Institute of Chicago and The Field Museum of Chicago. Rhonda was recently honored in a naming ceremony in her native South Dakota. Her Lakota name is "Wakah Wayuphika Win" (Making With Exceptional Skills Woman).
Related Events