"The All-American Crew" Book Talk with Author Russell N. Low
May 25 @ 7:00 pm

-

8:00 pm

Free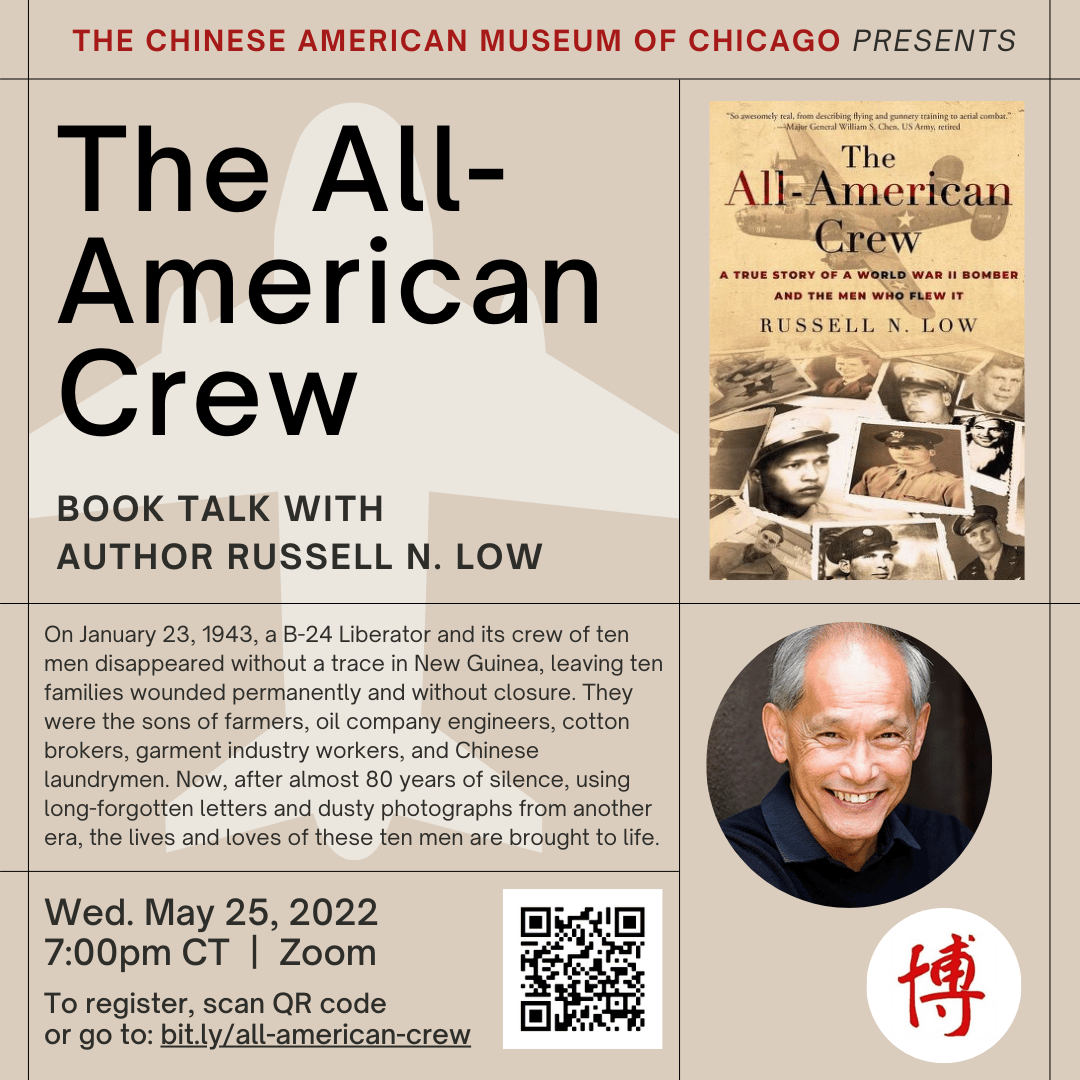 The Chinese American Museum of Chicago (CAMOC) is excited to announce this FREE book talk with author Russell N. Low, as he returns to CAMOC to discuss his new book published this year,
The All-American Crew
. Register
here
.
On January 23, 1943, a B-24 Liberator and its crew of ten men disappeared without a trace in New Guinea, leaving ten families wounded permanently and without closure. Now, after almost 80 years of silence, using long-forgotten letters and dusty photographs from another era, the lives and loves of these ten men are brought to life on the pages of The All-American Crew.
They did not intend to be heroes and would not welcome the description. They were the sons of farmers, oil company engineers, cotton brokers, garment industry workers, and Chinese laundrymen. Many were descendants of the oldest colonial families in America, who set foot on the soil of Colonial Virginia in the 1600s. Others came from families that migrated to America in the 1800s from Ireland, Scotland, Germany, Austria, and China during the tremendous immigration wave that built America. In truth, this group of young men could only have been formed in America. They were the best that America had to offer. Each was willing to sacrifice everything for the country he loved, driven by a patriotic fervor that was only matched by his love of flying.
The All-American Crew is based upon a true story. Stanley's transformation from a Chinese American boy, not yet old enough to vote or drink beer, into a B-24 Liberator nose gunner is set against the lives of the other nine American men, who are his crew members. Along the way, Stanley experiences loneliness, racism, his first beer, first romance, and the horrors of war, themes that are as relevant today as they were 80 years ago.
Related Events