Virtual Fireside Chat – Women in Philanthropy and Social Enterprise
July 20, 2022 @ 5:00 pm
FREE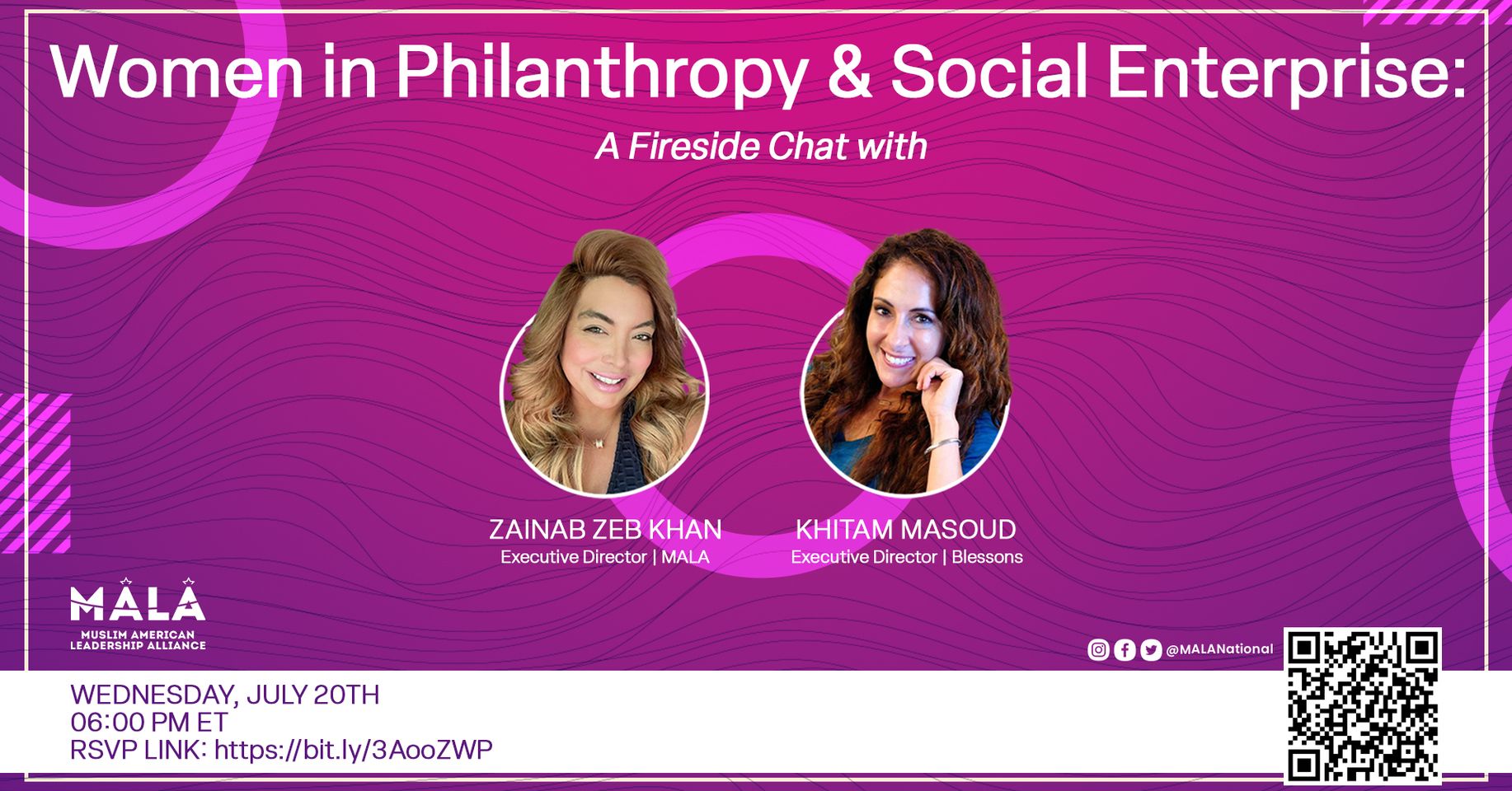 Join MALA for a fireside discussion centered on the leadership of women in the philanthropic and entrepreneurial space. Our special guest, Khitam Masoud, will sit down with MALA Co-Founder Zainab Khan to discuss her journey in philanthropy and social enterprise and share advice for other women navigating these fields.
_______________
About Khit:
Khit is a first-generation Palestinian female immigrant born and raised in Northern California. At the age of 16, she was emancipated by the Sacramento Courts as she avoided an arranged marriage to her first cousin. Khit has been on her own ever since with no relationship with her family or relatives since 1998.
Working multiple jobs at a time to provide for herself, she has been trying to complete her first Bachelor's degree since she graduated high school in 1999. Life lessons including; fighting cancer on her own, managing mental health and disorders such as PTSD, anxiety, ADHD, and depression, and surviving through abusive relationships and sex crimes, has made it very difficult in maintaining a 2.0 or higher G.P.A to complete a college education as a non-traditional adult student.
After surviving cancer in 2007, Khit moved to Chicago where she then learned more about how to get involved with not-for-profit organizations. For the past 6 years, she has been volunteering and working at Chicago-based organizations including Imerman Angels, a 1-on-1 cancer support organization, as a Mentor. Angel. Khit has gained an overwhelming amount of experience and skills thanks to non-profit professionals in her life that have become some of her most trusted mentors today. Her passion for philanthropy and making an impact on women like her, became the impetus for starting her own charity, Blessons for Women (Blessons, NFP). With more than 200 speaking engagements under her belt, she has learned how to cultivate relationships within the Chicago community and beyond
Related Events