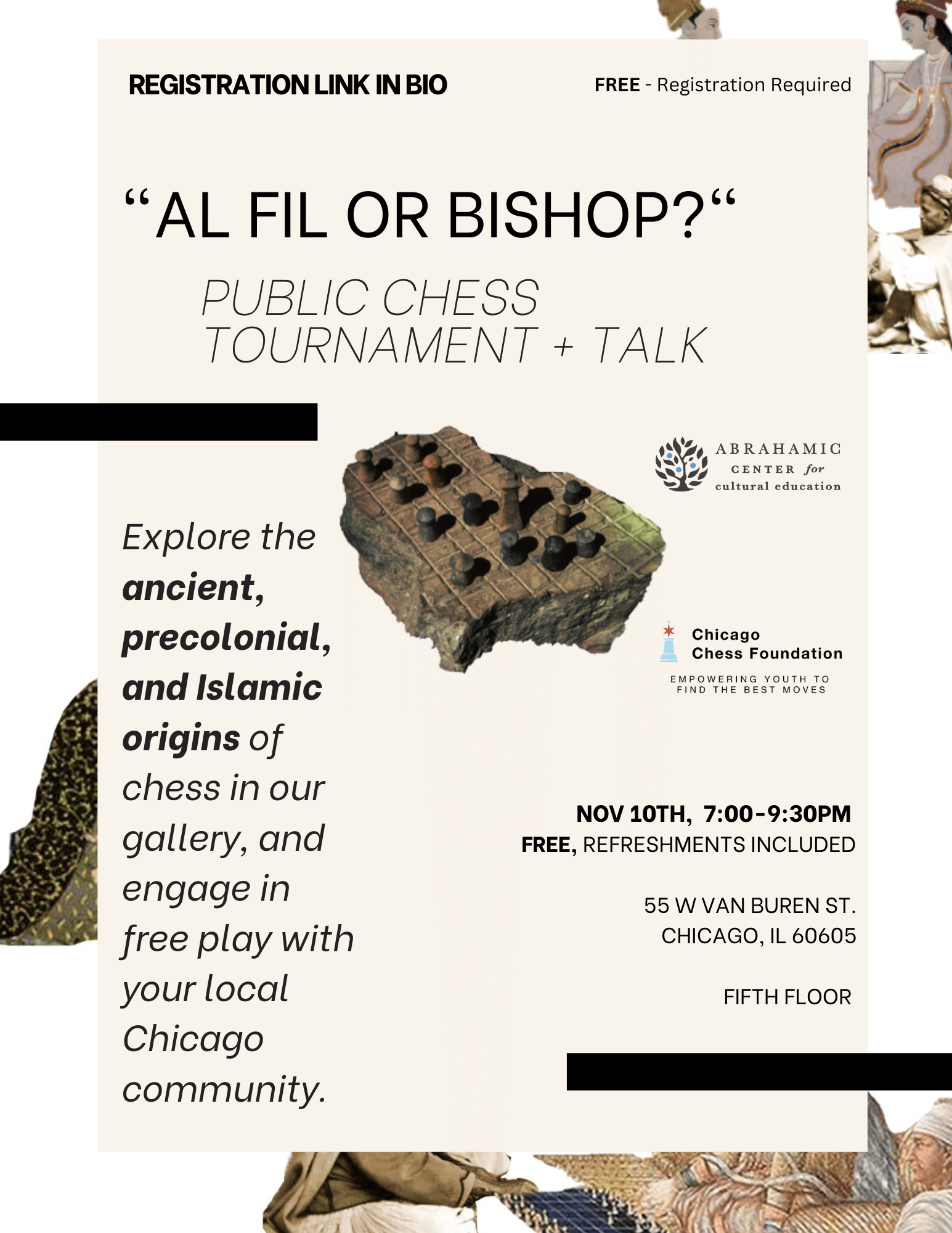 The Abrahamic Center for Cultural Education and The Chicago Chess Foundation are proud to present: Al-Fil or Bishop? a free public event in which ACCE will give a brief presentation about the origins of chess and the Muslim influences over the game throughout history! We will then open the floor to the Chicago Chess Foundation who will run multiple games of chess: blitz style tournaments for those that interested in timed competition and casual games for those that are interested in playing for fun. Winners of games will be given 2 free tickets to Brookfield Zoo! (limited to 1 prize [2 tickets] per person regardless of how many games are won. These are a courtesy of the Brookfield Zoo in partnership with the Chicago Cultural Alliance). Attendees will be given the opportunity to take home chess books for FREE as a courtesy of the Chicago Chess Foundation. All skill levels are welcome to register.
Program Details:
7:00-7:45 – Self guided tours of ACCE / light refreshments
7:45-8:15 – ACCE and CCF Welcome and Presentation
8:15-9:30 – Tournaments, Social Hour, Giveaways
*The Abrahamic Center for Cultural Education (ACCE) is an art gallery and resource center dedicated to promoting the understanding of Islam and Muslims in the community by working with individuals and academic, religious, public, and private institutions. ACCE supplements existing educational programs at schools and universities with training sessions, presentations, and other resources to help our community raise more culturally competent generations. Our two main services are educational presentations and visits to our exhibition space.  ACCE is an initiative of the Islamic Food and Nutrition Council of America (IFANCA®), a global leader in halal certification. For more information, visit our website at www.abrahamiccenter.org.
**The Chicago Chess Foundation (CCF) believes that chess can fundamentally change the lives of youth and families and contribute to the betterment of our community. Chess serves as a vehicle to transmit intangible social-emotional and leadership development skills. Our mission is to give all youth of Chicago – with a focus on underserved communities – the opportunity to learn, play and compete in chess at no cost.