"Lithuania in 1922" – A Symposium
November 12 @ 10:00 am

-

4:00 pm

$5 – $20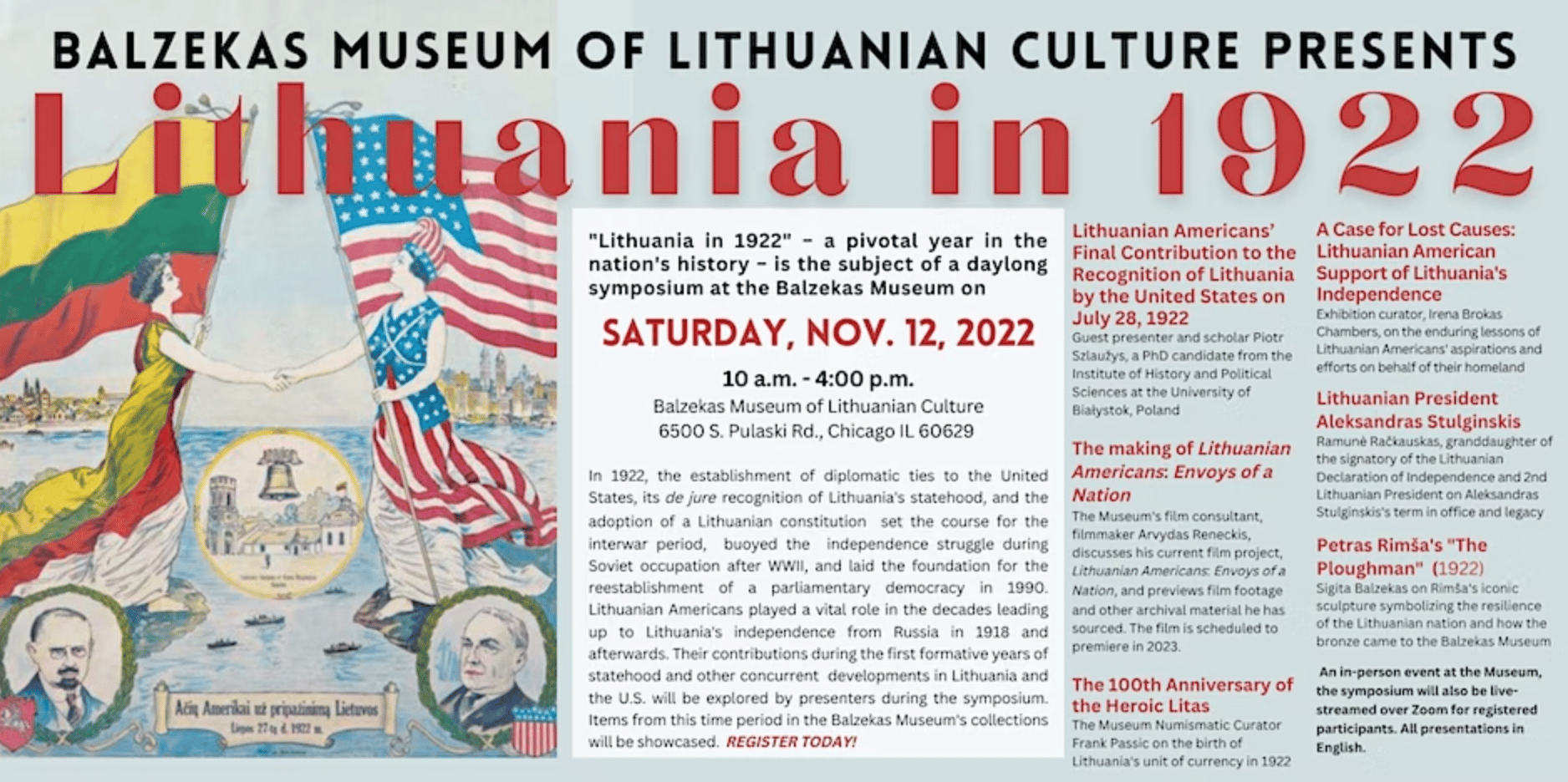 Balzekas Museum presents "Lithuania in 1922 – a Symposium
Lithuanian American contributions during the first formative years of Lithuania's statehood is the subject of "Lithuania in 1922," a symposium on Saturday, November 12, 2022, from 10 a.m. to 4 p.m. at the Balzekas Museum of Lithuanian Culture in Chicago, 6500 S. Pulaski Rd.
NEWS RELEASE:
From Meat Packers and Coal Miners to Nation Builders: How Lithuanian American immigrants helped their beleaguered homeland achieve freedom, independence, and U.S. recognition a century ago
Chicago, Oct. 22, 2022 — Lithuanian American contributions to Lithuania's freedom, independence and diplomatic recognition by the United States is the subject of "Lithuania in 1922," a symposium at the Balzekas Museum of Lithuanian Culture in Chicago on Saturday, November 12, 2022 from 10 a.m. to 4 p.m.
These first-wave immigrants, many of humble beginnings, who toiled in Pennsylvania and Illinois coal mines, East Coast factories, and Midwestern farms — the so-called "big shoulders" of Chicago's stockyards and steel mills — heeded the call of their beleaguered homeland and helped lift it from over a century of Russian subjugation and oppression.
Their actions were pivotal to the success of Lithuania's independence struggle in 1918 and to the United States' de jure recognition of Lithuanian statehood in 1922. In effect, they helped lay the cornerstone for the freedom and democracy Lithuania enjoys today.
The aspirations, tactics, and accomplishments of Lithuanian Americans then hold many lessons for our own turbulent times, according to Irena Brokas Chambers, curator of the Balzekas Museum's For Freedom about Lithuanian American support of Lithuania's struggle for independence and freedom and No Home To Go To exhibitions about World War II Baltic refugees.
"What Lithuanian Americans did was not only pivotal to Lithuania's struggle for freedom," said Chambers, in her presentation to the American Association of Baltic Studies conference in Seattle this past May. "Their success in gaining independence and [U.S.] recognition is a singular exemplar of what must be done in the continuing struggle to end oppression and champion freedom throughout the world."
Formerly the curator of collections at the Library of Congress, Chambers will present "A Case for Lost Causes: Lithuanian American Support of Freedom, Independence, and Recognition for their Ancestral Homeland" at the November 12 symposium.
"Lithuanian Americans' Final Contribution to the Recognition of Lithuania by the United States on July 28, 1922" is the subject of a presentation by guest scholar Piotr Szlaužys, a PhD candidate from the Institute of History and Political Sciences at the University of Białystok, Poland. His research interests include Lithuanian Americans' efforts towards U.S.' recognition of Lithuania after World War I, U.S. policy towards the Baltic States from 1918 to 1922, and Lithuanian immigration to the U.S. in the 19th and 20th centuries.
Other presenters include Balzekas Museum film consultant, filmmaker Arvydas Reneckis, who will discuss and share sourced material including archival film footage, photographs, and interviews, for his current project, Lithuanian Americans: Envoys of Nation, a film premiering in 2023, and his recent film about the Lithuanian Liberty Bell, a gift of Lithuanian Americans to their ancestral homeland, also in 1922.
Guest speaker Ramunė Račkauskas, granddaughter of Lithuania's second president, Aleksandras Stulginskis, who was in office when U.S. President Warren B. Harding conferred de jure diplomatic recognition to Lithuania, Latvia, and Estonia on July 28,1922. She will speak about President Stulginskis's term and his legacy. The Museum's numismatic exhibitions curator, Frank Passic, will speak about the history of the Litas, Lithuania's first unit of currency, introduced in 1922.
Symposium attendees will have an opportunity to numismatic collections, the For Freedom exhibition, and other related items of the period in the Museum's collections and exhibitions. Of special interest is "The Ploughman" (1922), Lithuanian sculptor Petras Rimša's iconic bronze sculpture, symbolizing the spirit of the Lithuania nation and its resilience and resolve—then and now—in setting the course for Lithuania's future. This sculpture is on loan from the Museum of Fine Arts, Boston.
IN-PERSON AND/OR ON ZOOM, REGISTRATION IS REQUIRED FOR ALL PARTICIPANTS
This is an in-person event at the Balzekas Museum of Lithuanian Culture, 6500 S. Pulaski Rd., Chicago IL 60629. Those unable to attend, can watch scheduled presentations over Zoom. Registration is required for all participants. (Pre-registered Zoom participants will receive links to each presentation a couple days before the event.)
REGISTER THROUGH EVENTBRITE: https://lithuania1922.eventbrite.com 
or by phone: 773.582.6500.
FEE: $20 Non-Members; Members $10; Students: $5. Light refreshments will be provided.
For co-sponsorship opportunities or media inquiries, please contact Sigita Balzekas at 773.582.6500 or email admin@balzekasmuseum.org.
Everyone is warmly welcome to attend!
This event is sponsored in part by the Members and Private Donors of the Balzekas Museum as well as the following grantors: the Illinois Arts Council Agency, the City of Chicago Department of Culture and Special Events and CityArts. The For Freedom exhibition and the Lithuanian Americans: Envoys of a Nation film project has also received funding from the Lithuanian Foundation. The Balzekas Museum gratefully acknowledges all contributors for their generosity in support of Museum programming and activities.
Related Events