Community Parades and Activism: LGBTQ Claiming its Space
June 4 @ 11:00 am

-

1:00 pm

FREE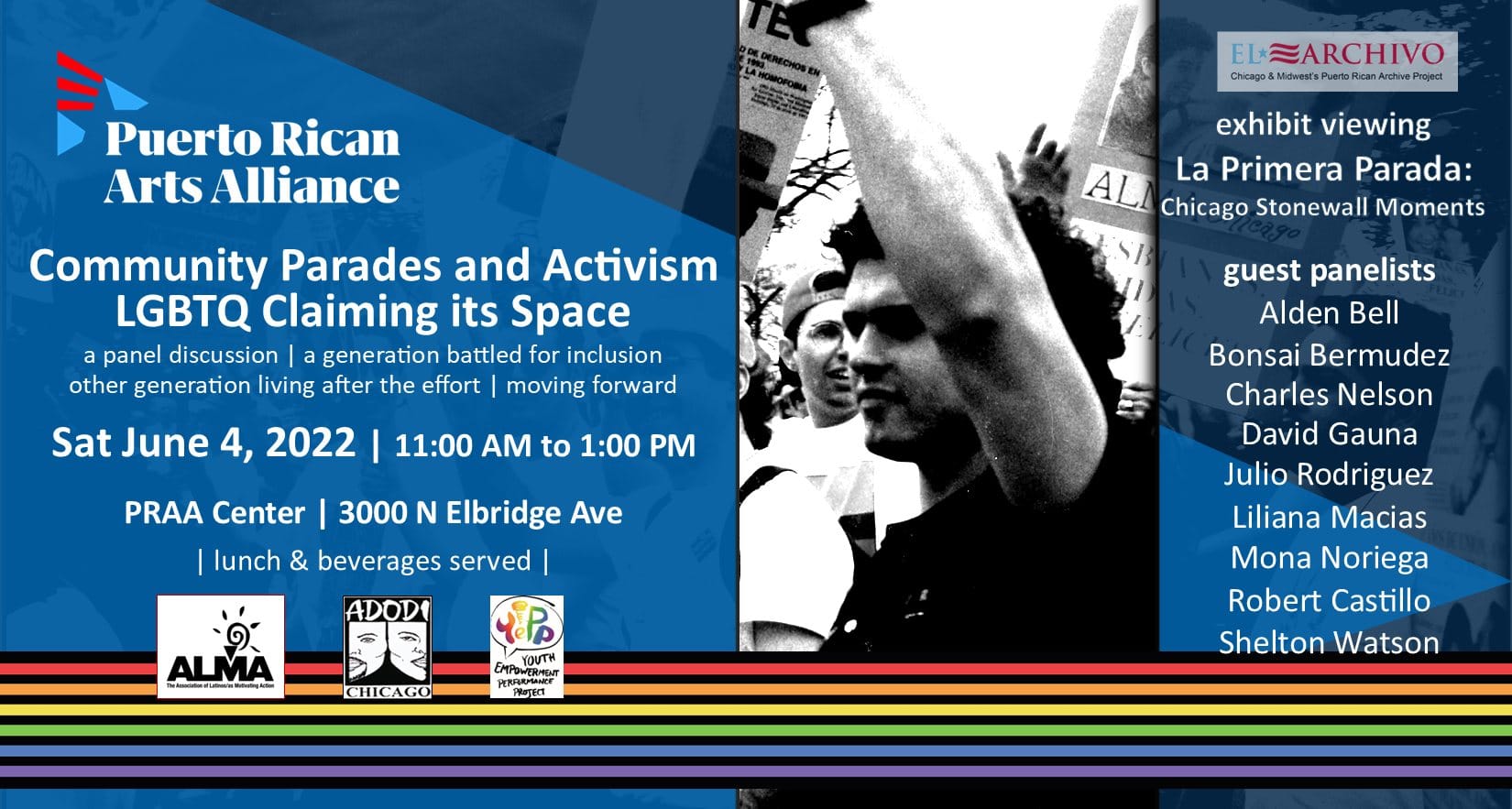 Exhibition Viewing La Primera Parada & Panel Discussion
An open discussion about LGBTQ/SGL activism in Chicago communities. A panel of Latin@ and African American LGBTQ/SGL leaders will discuss the daring experience of walking for the first time on their community parades (1993-1994). A second panel of young activists will react and ask questions contextualizing that historical moment to current efforts and together discuss how to move forward. Some of the panelists include Alden Bell, Bonsai Bermúdez, Charles Nelson, David Gauna, Julio Rodriguez, Liliana Macias, Mona Noriega, Robert Castillo, and Shelton Watson.
The event is presented by the Puerto Rican Arts Alliance in partnership with ADODI Chicago – an SGL brotherhood organization for men of African descent, and ALMA – Association of Latina/o/x Motivating Action. The program is supported by the Gaylord and Dorothy Donnelley Foundation's Broadening Narratives fund.
The program will mark the exhibition closing "La Primera Parada (The First Parade): Chicago Stonewall Moments at the Puerto Rican Arts Alliance, 3000 N Elbridge Ave (old firehouse near the corner of Central Park and Milwaukee Avenues in Avondale. Street parking is available and at the US Bank employee lot, 3617 W Oakdale, across from the bank's customer lot).
Lunch snacks will be served. FREE but limited space – Register now.
For information – 773-252-8814 or email jorge@praachicago.org.
Visit PRAA's website and learn about our digital archive program www.praachicago.org/el-archivo-project.
Related Events