Diane Ohi, Human Resources Director, Chicago History Museum 
---
Taste from Home is a collection of recipes and stories can be used as a way to connect with others and facilitate conversations about race, culture, and identity over a new recipe. Make a cultural dish and sit down with family and friends and have a discussion of the culture it represents.  Please consider making a tax-deductible donation today, if you are able. If you are unable to donate, you can still participate by sharing a recipe by using hashtags #tastefromhome, #tastefromhomerecipe, & #chicagocultural on Facebook, Twitter, or Instagram.
Beans and rice – a familiar world-wide staple, yes?  But what about beans and rice …for dessert? Here, I'm telling the story of my Japanese-American family's love of desserts made from sweetened azuki beans and sweet rice.  Many of you may have heard of mochi, the smooth chewy rice dessert filled with ice cream at restaurants.   In its original form, that same mochi is filled with red azuki beans cooked in sugar.  Another variation takes the sweetened beans thinned into a soup and served hot in the winter, with toasted sweet rice "cakes" cooked in a dry skillet until chewy in the inside, and crispy on the outside.  A summer version, frequently served at festivals, is the same "soup" served over shaved ice – cool, sweet, and refreshing.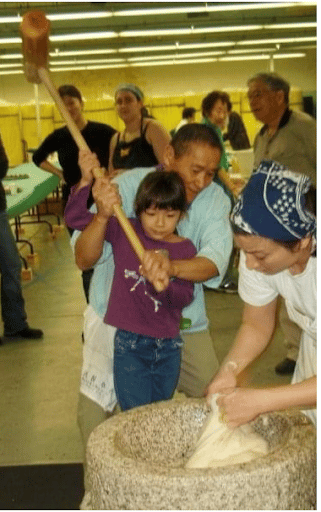 My kids and I love mochi in all its forms and due to their early childhood food allergies to milk and nuts, mochi became our go-to dessert.  Having avoided ice cream, cup cakes, cookies, and candy bars for years, I was thrilled to make a nut-free, dairy-free dessert with a connection to my cultural heritage – MOCHI! As a child, I recall going to the Japanese grocer with my mother and grandmother and seeing the trays of freshly made fancy mochi at the cash register.  Often in bright colors, the pink, green and white striped suama was my favorite, seconded by the pink mochi with the gelatin green leaf on the side.  They were all so beautiful and the counter was a perfect height to entice a young girl with a serious sweet tooth. In its most basic form, mochi is pounded sweet rice (a variety of rice) pounded until sticky and chewy and formed into flattened disks. They say the mochi is done when it is pounded so smooth that it feels like a baby's earlobe!  Made especially to celebrate the New Year, this plain mochi is a must eat food to start the year off right.
My family and I attended many New Year's mochi-tsuki rice pounding celebrations at the Chicago JASC with the members of Tohkon Judo Academy, members of the JA community, and other welcome neighborhood guests.  My children even tried their hand at mochi "smooshing" using large mallets and hot rice in a giant stone bowl.  The actual pounding is somewhat dangerous and done by teams of four adults, who alternated their pounds like a drum quartet, all pounding their long wooden mallets into the same large stone bowl. Later, "the grandmas" (aka the professionals) allowed my children and me to form the mochi into rice cakes and even fill the plain cakes with a whole strawberry and sweetened red bean paste. These finished trays of mochi were then delivered to senior centers, restaurants, and shared with guests.
My mother and grandmother would serve toasted stove top mochi in a bowl with a little sugar and soy sauce for dipping. The mochi was crunchy and chewy, the sauce salty and sweet.  A truly wonderful and satisfying fall or winter snack.  We now make this at home but in a Belgian waffle maker and call it "Mah-fu-roos" (mochi waffles)! Today, my children no longer have their allergies, but still love to indulge in mochi desserts.  They have discovered my well-worn book of Hawaiian mochi recipes and are trying new dishes, like microwave butter mochi cake, mango mochi, and tri-colored baked coconut mochi for Girls Day. Like many traditions in America, we remember the old and add our new touches.  I am truly grateful for the opportunity to pass along  our mochi-love and pride in our cultural heritage.