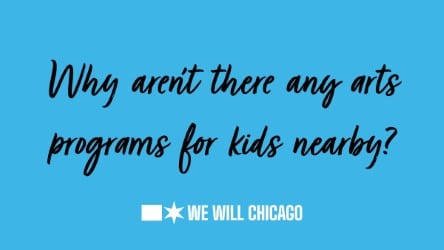 Many of you may remember that the Chicago Cultural Alliance and our Members were invited to provide input on the city's We Will Chicago plan, a comprehensive citywide plan to encourage economic growth, address systemic inequality, and increase neighborhood livability over the next ten years. It is the first citywide plan since 1966. After gathering input from community leaders like all of you, the City has now released a draft of the plan for community feedback before they finalize the plan.
You can read a draft of the plan here. Our input is especially important for the Arts & Culture Pillar, which is the first section (after the introduction). 
Then you can provide input at this survey: https://www.surveymonkey.com/r/ArtsCultureWWC. (You can also go right to this survey if you'd like! It summarizes the Arts & Culture Pillar's goals.) The city has asked for feedback from the community before November 1.
You also have the option to attend one of four We Will Chicago Informational Zoom Meetings coming up:
Wednesday, September 21, 2 PM-3 PM (https://us02web.zoom.us/webinar/register/WN_NjaabjVkQgSe0-1odQy1Bg)
Wednesday, September 28, 1 PM- 2 PM (https://us02web.zoom.us/webinar/register/WN_1y9TQxuESWm8-AalvBbizg)
Tuesday, October 4, 1 PM- 2 PM (https://us02web.zoom.us/webinar/register/WN_wJFR054WR0KiUEI2kFDVAA)
Tuesday, October 11, 11 AM- 12 PM (https://us02web.zoom.us/webinar/register/WN_NMVNr9GcQqOnQgYMOAvxyw)