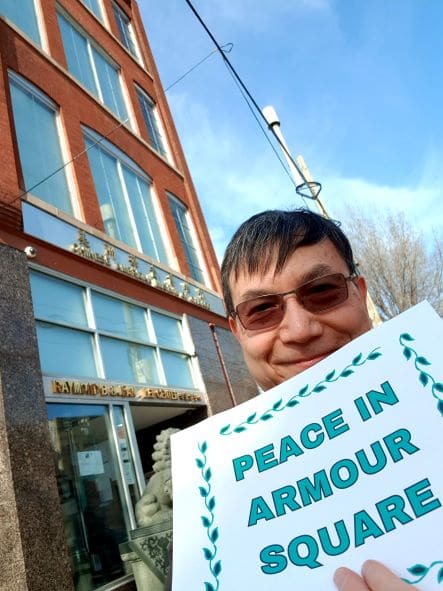 CCA Partner Member The Peace School is launching a photo campaign to celebrate the beauty of all people and cultures in the 77 Community Areas of Chicago, and they are asking their fellow Members of the Alliance for help! Their goal is to spread peace and love by getting to know and understand each other better as we support positive actions for peace. They thought of you because they want to promote people, groups and businesses that are making their neighborhood a better place to live. (That is DEFINITELY the Members of the Alliance!)
It is easy to participate! Go to a place you love in your community and take a photo with your message of peace. You'll find details and sample photos below. Your photo will become part of the Peace in Chicago Call to Peace series on social media, featuring one Community Area each day.
Here's an example from the Swedish American Museum of Chicago, who already submitted their photo, and Ben from the Chinese American Museum of Chicago is the cover image for this post!
Here's how to participate:
·         Make a sign that says: Peace in [community area]
·         Take a photo with the sign – here are some samples and ideas:
Celebrate something positive in your community:
·         Your photo location could be on your own block or in front of a park, community garden, museum, school, public mural, community center, shop, restaurant… pick a spot in your Community Area you'd like to highlight. (This is a great way to represent your own cultural center or museum if you'd like!)
·         Your photo can include one person or you can gather your family, neighbors, coworkers or members of your local organization.  Please make sure that everyone in the photo gives permission for the image to be shared (including parent or guardian of children).
·         Your sign can be on a piece of paper or on a large poster. It can be simple or artistic. Keep in mind that you'll want the sign's message to show up well in your photo.
More about Community Areas:
·         Use this link for a map of Chicago's 77 Community Areas. https://bit.ly/35Z49QW
·         Type in the name of your Community Area in the search box on top left and it will take you to an enlarged map of your Community Area.
Share your photo with the Peace School:
1.       Send your photo as an email attachment to: [email protected]
2.       Important! Include a statement in your email giving us permission to share the photo on social media.
3.       Feel free to send us your Instagram and FACEBOOK @ handle so we can tag you when it's time for your photo to be posted in the series. Then please share!
4.       You can also send us @ handles of other places in your Community Area you'd like us to tag.
It would mean a lot to have you participate in this special Peace in Chicago Call to Peace as we celebrate The Peace School's 50th Anniversary in Chicago. Email Lydia Howe with questions at [email protected]. Together, let's plant seeds of peace in Chicago and the world.