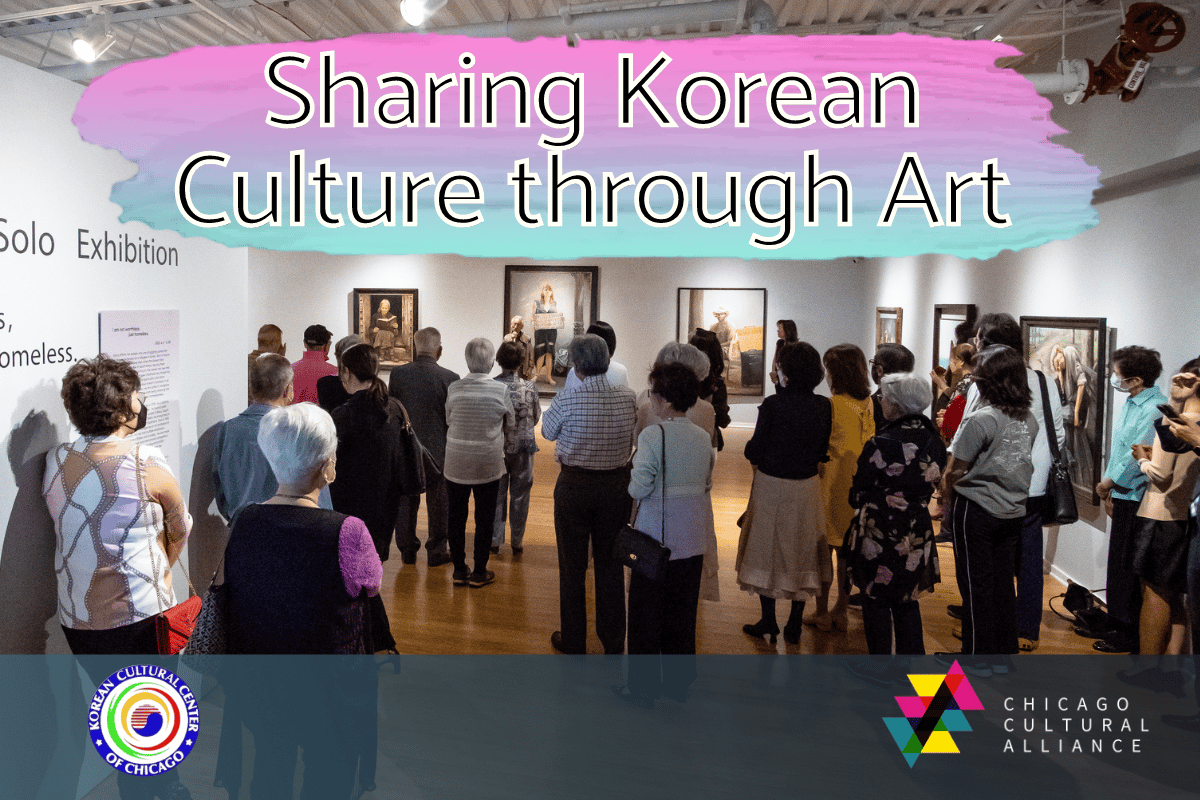 VIsiting the korean cultural center of chicago gallery
Their emphasis on using their Museum and Visual Arts Program to share both traditional Korean culture and contemporary artists was evident when our Collaborative Programs Coordinator Abby Foss visited the KCCoC recently. Abby visited the gallery in May to view the exhibition "Gyeol" by textile artist Hyelim Kim. Kim designed an avant garde collection created with both modern and traditional Korean textiles and techniques. Abby was lucky enough to meet with the artist herself, and to tour the gallery with the KCCoC's Executive Director, Kay Kihwa Rho.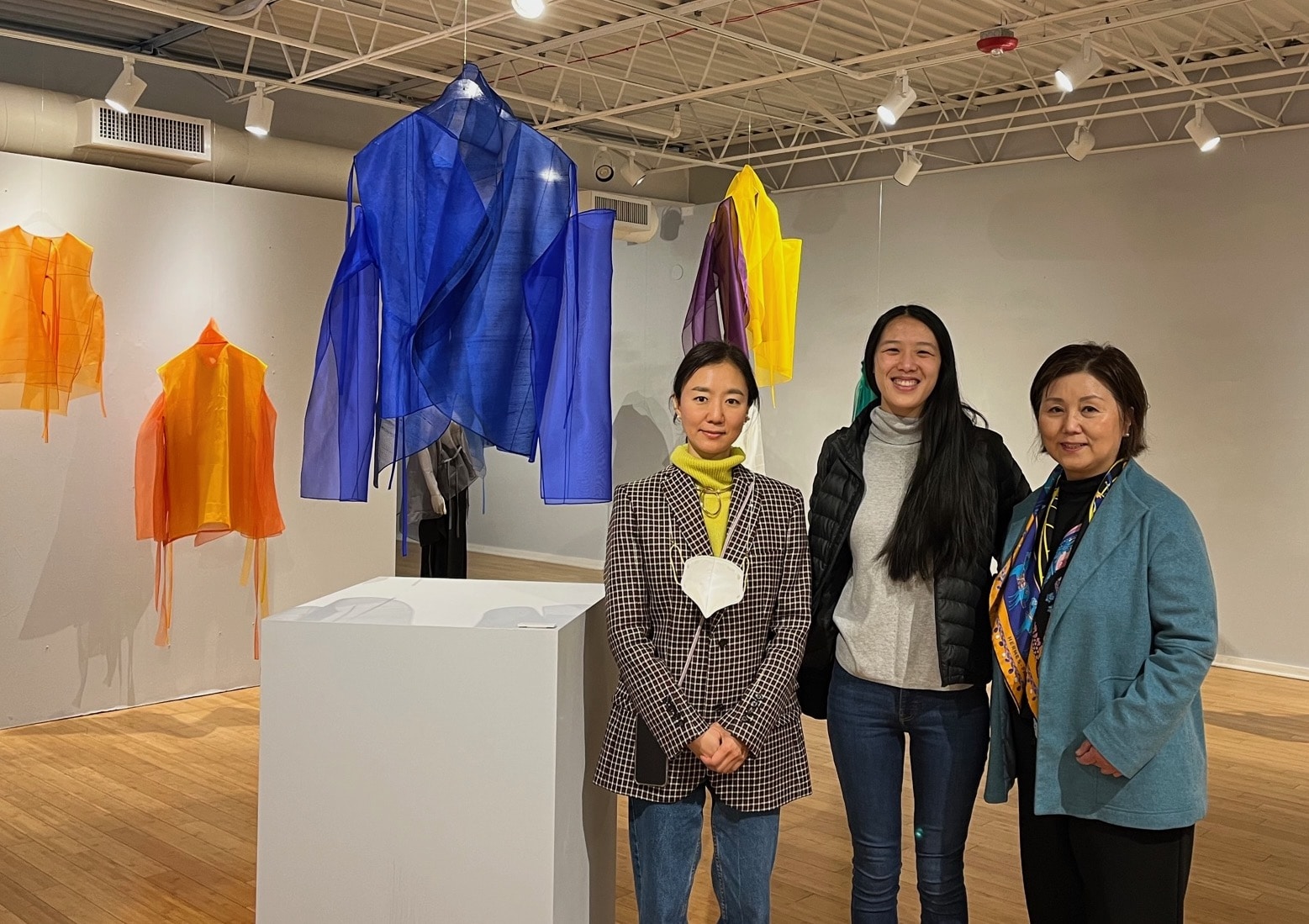 Hyelim Kim, Abby Foss, and Kay Kihwa Rho at Kim's show "Gyeol." Photo courtesy of Abby Foss.
Kim utilized a sewing technique, Kkaekki, which is a traditional style of seaming created for the Korean Hanbok, where fabric pieces are cut and pieced together in a way that resulted in beautifully thin and flat seams running throughout all of the garments. "As I walked around the space, the avant garde cuts, colors, and lines created by the Kkaekki technique gave a sense of movement, and the colors themselves shifted slightly as the light caught the different layers within the garments," Abby said. "My favorite piece was a yellow and purple garment that Hyelim Kim explained had been inspired by the sunset."
Learning More about the Korean cultural center of chicago's visual arts program
Inspired by Abby's visit to the Korean Cultural Center of Chicago's museum and gallery, I wanted to learn more about how they curate their constantly changing exhibitions. I spoke with Gay-Young Cho, the Director of the Museum and Visual Arts Program at the KCCoC to learn more about the thought process behind their exhibitions and what is so unique about their program.
What is your professional background? How did you come to work for the Korean Cultural Center of Chicago?
My professional background is social psychology, specializing in organizational behavior. However, I have been involved with the art world for over 30 years as an art collector and as a volunteer in various capacities in numerous art institutions. I am a founding member of the Asian Art Council at the Guggenheim Museum in NYC, and was Vice President and Chair of Programming of the Asian Art Council Board at the Art Institute of Chicago. I serve on the Collections Committee of the Field Museum of Chicago. I assumed the role of the Director of Museum at the KCCoC as a volunteer.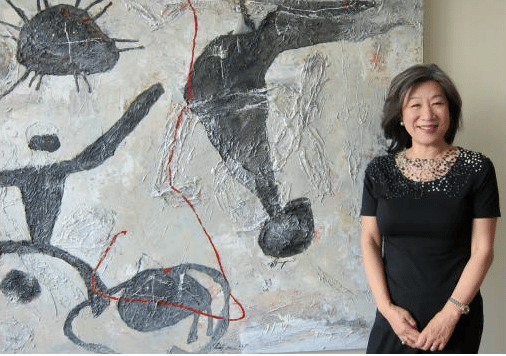 Image courtesy of Gay-Young Cho
What kinds of artists do you work with or what kind of art do you look for when you are making your curatorial decisions?
One of the goals of our exhibition program is to promote Korean American artists, thereby we give preference to the Korean American artists working in the Midwest. The foremost criterion we are looking for in our exhibitions is excellence. But another criteria is the subject matter or the use of the material that relates to Korean culture, both traditional or contemporary.
Do you have a favorite exhibition that you worked on recently? If so, can you tell me what was special about it?
The exhibition, "FOUNDATION; Chosuk," which was held on March 5, 2022. It was a group show of eight emerging Korean American artists who are recent graduates of the School of Art Institute of Chicago (SAIC), curated by Dabin Ahn. "Chosuk" is the foundation stone that was widely used in Korean traditional architecture providing structural support for buildings ranging from small Hanok houses to the main royal palace of the Joseon dynasty. Bringing together a group of emerging artists, FOUNDATION showcased how each artist structures their practice by employing Culture, Longing, Color, Identity, Process, Memory and Site-specificity as its foundation. There was some fabulous cutting edge art represented in the exhibition!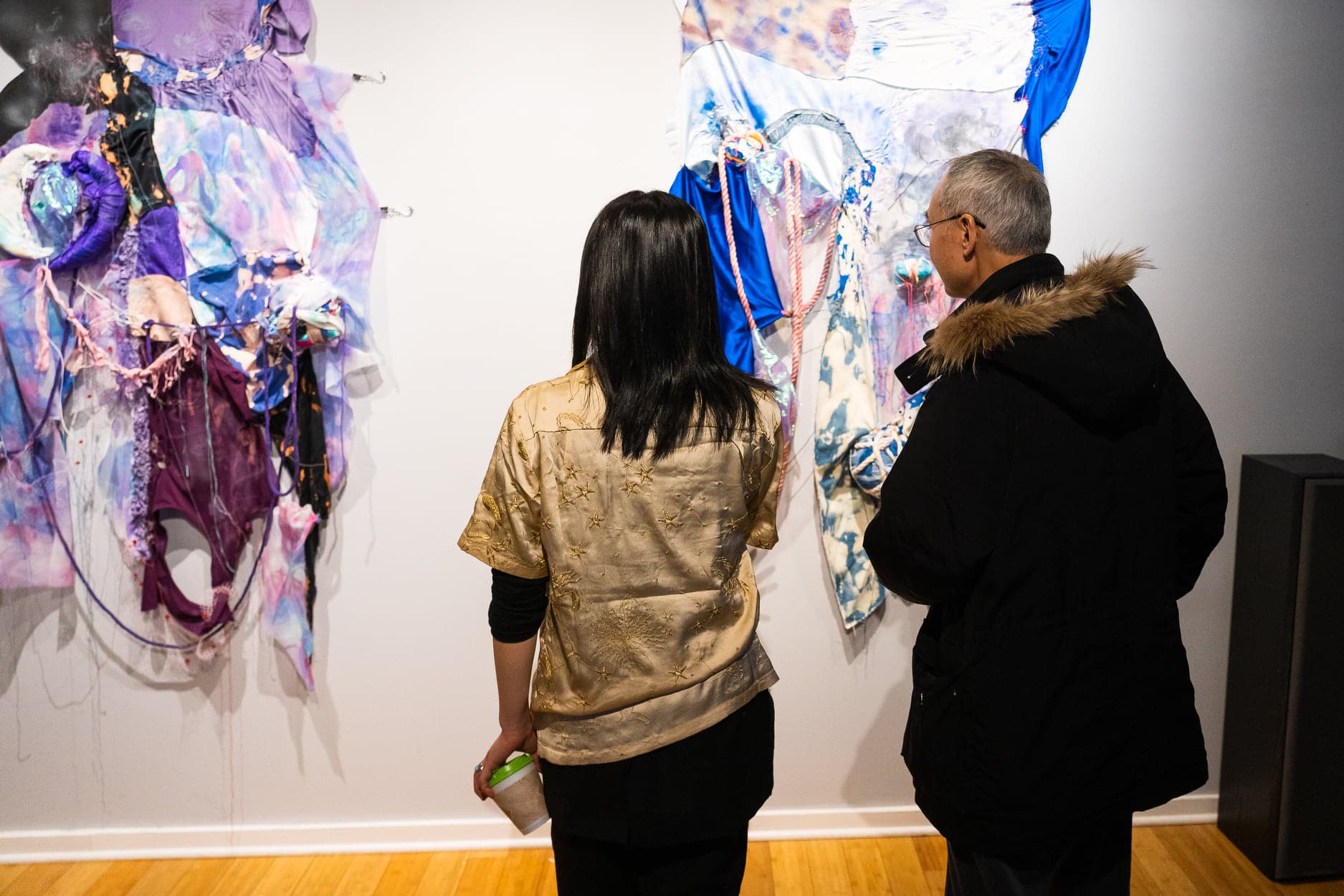 Guests view the artwork at the "FOUNDATION; Chosuk" exhibition. Photo courtesy of the Korean Cultural Center of Chicago
What do you want people to know about the Korean Cultural Center of Chicago, its museum, and its visual arts program?
Our museum and its visual arts program is "the little engine that could!" As a small museum, we have limited resources; we work with a very small budget and limited staff. The available budget does not match our ambition. Despite this, with our excellent exhibitions we are beginning to make our presence known both in the Korean community and the Chicago metropolitan area.
We also have an interesting collection of Korean cultural artifacts and arts in our museum, including a mock Korean traditional wedding set.
Anyone can rent the Korean wedding set and traditional Korean dresses for their own wedding.
Can you tell me about the Harry Ahn show happening now? What is special about this show? Why would you recommend people come to see it?
When I made a visit to Harry Ahn's studio, I was quite stunned and moved by his paintings of homeless people. Not only is Harry an amazing and accomplished portrait artist, but in his rendering of the homeless, we are called to recognize the worth and dignity of every human being, knowing that each has untold stories behind their homelessness. When asked why he focused his art on homeless people, Harry explains:
"A homeless wanderer on the street is an endless subject. I want to make people think about the many different ways ordinary people end up on the street. An artist can transform this outcast into a human being worthy of dignity and respect. I was that same homeless wanderer during the desolation right after the Korean War."
A guest contemplates a painting by Harry Ahn. Photo courtesy of the Korean Cultural Center of Chicago
Ahn's affinity for people who are struggling came from his own experiences as a refugee in Korea. He was born in North Korea, and was a young teen when the Korean War forced his family to flee to South Korea, leaving them destitute and homeless. In his art, the viewer can see that his remembrance of his refugee childhood has infused his art with both compassion and spirituality, and Harry seeks out the basic human value of each individual.
The exhibition, "I am not worthless, just homeless," opened on June 3rd and will be showing through June 30th. The viewers will be moved to see what Harry saw in these homeless people.
Finally, what do you have coming up soon?
We are taking a summer break to focus on upgrading our collections and inventory system; we recently installed new collections management software, and are in the process of revamping our system to make our collections and exhibitions widely accessible online.
We are planning an exhibition, "Earthly Eloquence: Korean Contemporary ceramics." This exhibition will be timed to coincide with the opening celebration of the Bisch Hall Performing Arts Theater, to be completed next year.
Another future exhibition we are exploring is art made with "hanji", Korean paper.
Harry Ahn's "I am not worthless, just homeless," will be showing through June 30th at the Korean Cultural Center of Chicago Gallery, 9930 Capitol Dr, Wheeling, IL, 60090.
---
Special thanks to Gay-Young Cho, Kay Kihwa Rho, and Abby Foss for their help with this article. Image used in header is courtesy of the Korean Cultural Center of Chicago.
Marie Rowley, Marketing and Communications Manager