The 2022 Chicago Culture Holiday Shopping Guide is here! It's time to refresh your cultural gear and gift your loved ones local-made cultural arts and crafts and much more! The Chicago Cultural Alliance is partnering with over 40 cultural heritage centers, museums, and heritage societies across Chicago's neighborhoods and suburbs. With choices ranging from books, paintings, artisanal crafts, food and drink you are bound to find the perfect gift for your friends and family, or just for yourself!
Before we get into the gift shops, don't forget to swing by one or more Holiday Markets!
Sat, Dec 3, 10am–5pm | Sun, Dec 4, 10am–4pm
Julmarknad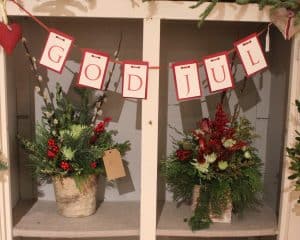 Swedish American Museum
5211 N Clark St, Chicago, IL
Julmarknad is the Museum's annual Christmas Bazaar, where traditional Scandinavian and modern handicrafts will be available for purchase. Visit the Children's Museum for crafts, games, and a special visit from Santa. It is entertainment for the whole family and includes kaffestuga, Lucia processions, and folk dancers.
FREE
LEARN MORE HERE
Sat, Dec 10, 10am-5pm
Native American Holiday Art & Gift Market

American Indian Center
3401 W Ainslie St, Chicago, IL
Want more Native American arts and crafts? Swing by the Holiday Art & Gift Market! This market will not only satisfy your gift shopping needs but will entertain you with live drum & dance exhibitions and an Indian taco sale!
FREE
Sat, Dec 10, 11am-6pm
Weihnachtsmarkt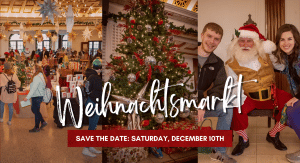 DANK HAUS
4740 N Western Ave, Chicago, IL
Come to a warm indoor Weihnachtsmarkt with German-inspired Christmas shopping, Glühwein, food, music and more! There will be German food and drink for sale as you stroll through rows of festive stands.
FREE
LEARN MORE HERE
Sat, Dec 10, 11am-5pm; Sun, Dec 11, 11am-5pm
Ukrainian Institute of Modern Art Holiday Maker's Market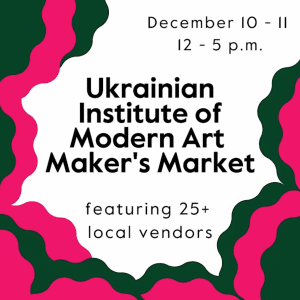 Ukrainian Institute of Modern Art
2320 W Chicago Ave Chicago, IL
Check out the Maker's Market this year showcasing emerging & established creators to sell their work, grow their businesses, and join this vibrant community.
$5
REGISTER HERE
…and now let's get on with the gift shops!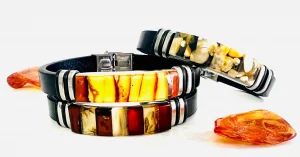 6500 S Pulaski Rd
Hours: Mon-Sat, 10am-4pm. Sun, 12pm-4pm. 
The Balzekas' Museum gift shop is filled with a huge variety of Lithuanian goods! Shop one-of-a-kind amber-made ornaments and jewelry imported straight from Lithuania, or pick up a history book or traditional children's book from the shop.
SHOP NOW

Level up your closet and know that your purchase supports a local charity, Caledonia Senior Living and Memory Care! While you're at it, why not drink your whiskey or beverage of choice in style with these Chicago Scots-themed glasses?
SHOP NOW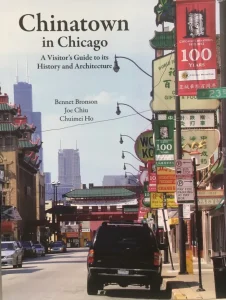 238 W 23rd St
Hours: Wed and Fri, 9:30am-2pm. Sat and Sun, 10am-4pm.
Learn more about Chinese American history by picking up a book from the gift shop when you visit the Chinese American Museum! Or maybe learn to cook a few Chinese dishes for your holiday potluck with an authentic cookbook.
SHOP NOW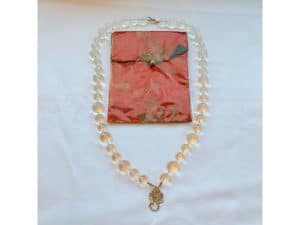 Shop postcards, glassware, cookbooks, music, and more at the HAMOC! Check out this unique faceted clear crystal two-strand necklace donated by HAMOC Advisor Board member, Sandra McCollum.
SHOP NOW
9603 Woods Dr, Skokie
Hours: Wed-Sun, 10am-5pm.
Make your holiday season a meaningful one by browsing through the Illinois Holocaust Museum & Education Center's huge selection of local survivor stories.
SHOP HERE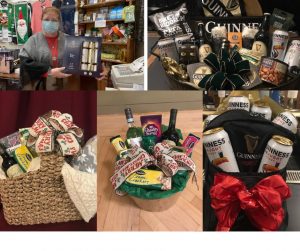 4626 N Knox Ave
Hours: Fri, 4pm-8pm, and Sat, 10am-4pm.
Whether you are hungry for sweets from the Galway Bakers or savories from Winston, you can find your Irish favorites at the Irish American HeritageCenter Gift Shop. Their merchandise is ever-changing, so you should visit our Gift Shop frequently to see what's new.
VISIT IN-PERSON TO SHOP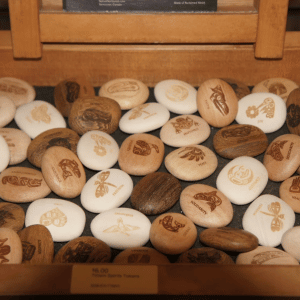 3001 Central St, Evanston
Hours: Wed, 10am-5pm, and Sat, 10am-5pm.
This gift shop showcases the talent of Native artists and craftspeople from across America. Shop handmade crafts and accessories like these small wooden tokens featuring native art of animals and motifs for a stylistic addition to your home today!
SHOP NOW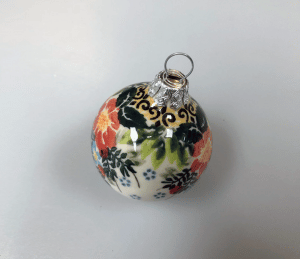 984 North Milwaukee Ave
Hours: Tues, Thurs, Sat, 11am-4pm.
Decorate your Christmas tree this year with a beautiful handmade ceramic ornament! Check out this one with red flowers surrounded by smaller flowers and leaves. And find more Polish crafts, books, and other goods from the website!
SHOP NOW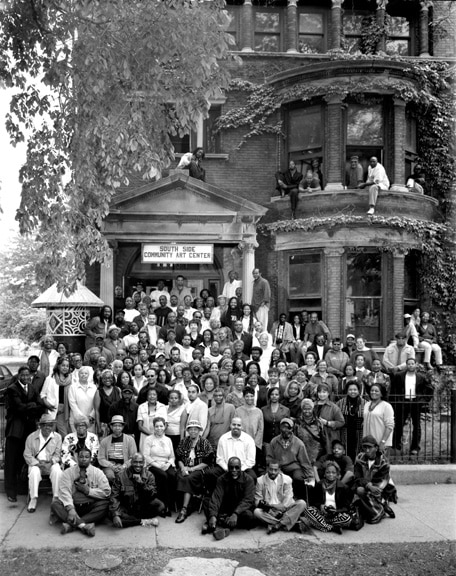 Shop merch printed with SSCAC's colorful logo or pick up an iconic poster that documents a 'magical moment' in the visual arts community with more than 100 artists gathered at the South Side Community Art Center.
SHOP NOW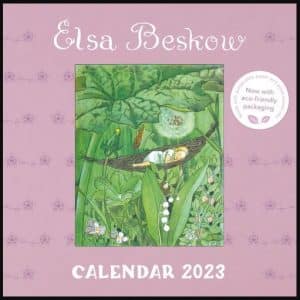 5211 N Clark St
Hours (through Dec 30): Mon-Fri, 10am-5pm (Fri, Dec 17 extended hours to 8pm). Sat & Sun, 11am-4pm.
Start your new year right with a calendar featuring Swedish artists or Moomin! Want more choices featuring other Swedish artists? The Swedish Museum got you covered! There are even more books for the little ones to learn more about Norse mythology.
SHOP NOW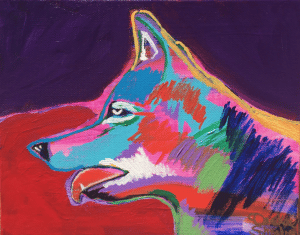 190 S. Roselle Road, Schaumburg
Hours: Tues-Fri, 10am-5pm. Sat, 10am-3pm.
Learn about native veterans through documentaries produced by the Trickster Cultural Center and browse through the gorgeous selection of paintings, statues, and jewelry made by Native artists!
SHOP NOW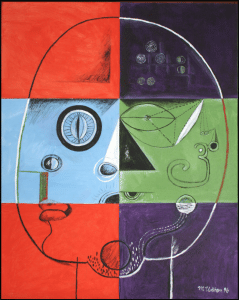 2320 W Chicago Ave
Hours: Wed-Sun, 12pm-4pm
A gift shop full of everything art! Books, postcards, and posters featuring Ukrainian artists. Go visit the museum to see authentic pieces and bring back a print to post on your wall!
SHOP NOW
On the note of giving, don't forget you can also give to your local cultural institutions by purchasing a Membership to a small museum or making a donation when you visit!