Why is Haitian Heritage Month celebrated in May?
Haitian Heritage Month is a celebration of Haitian history, heritage, and culture for those from the Haitian diaspora. It began in the 1990s among the Haitian community in Boston, but soon spread across the country and into Canada. Celebrations revolve around Haitian Flag Day, May 18. With so much to celebrate, Haitian communities soon embraced a whole month for the festivities, with Haitian Flag Day as the centerpiece.
I recently spoke with Carlos Bossard, Executive Director of the Haitian American Museum of Chicago (HAMOC) about the meaning of these holidays to the Haitian community. "What's really kind of special about the Haitian Flag is how it was created," he explains. "During the Haitian Revolution, Haitians literally tore out the white part of France's flag and put it together, so that's why it's blue and red." The flag has held great symbolic meaning for the country ever since then.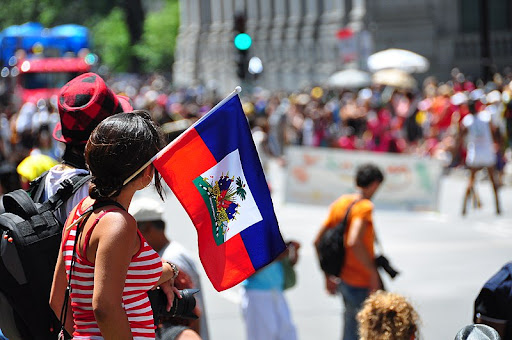 A celebration in Montreal in 2011. Photo by abdallahh on flickr, CC-BY-2.0.
Haitian Flag Day is a major holiday within Haiti, and is celebrated by diasporic Haitian communities throughout the United States (U.S.) and worldwide. I asked Carlos what activities are common for these celebrations. "There are usually different flag-raising ceremonies, depending on the location," he explains. "But often what you'll see is just a big gathering, in a communal space. It's a chance to come together, to be in community with each other, celebrating Haitian culture throughout the city and everywhere it shows up across the world."
What is the history of the Haitian community in Chicago?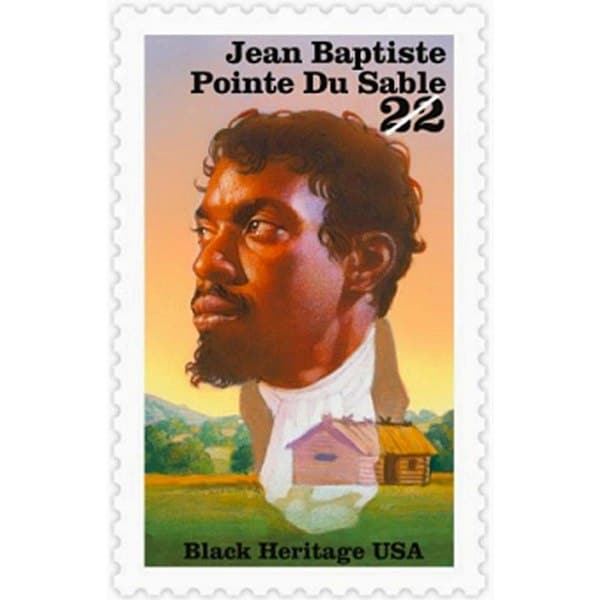 During Haitian Heritage Month, it's a great opportunity to remember that Chicago's first non-Indigenous resident and Founder was a Haitian man, Jean Baptiste Point DuSable. From his time in the 18th century to now, Haitians have made an impact on the city.
(Image on left: A commemorative stamp issued by the US Postal Service honored Jean Baptiste Point Du Sable in 1987, Chicago's 150th birthday.)
According to historian William Leslie Balan-Gaubert, while their numbers were relatively small early in the 20th century, Haitian immigration to the city increased after the 1960s. HAMOC recently installed a touchscreen platform at the museum highlighting its oral history collection, donated by Haitian historian and scholar Dr. Courtney Joseph. These stories tell in detail the immigration patterns and experiences of Haitians coming to Chicago. The platform is highly recommended for all to engage with at the museum.
The Haitian Consulate General in Chicago reports that there are 30,000-40,000 self-identified Haitians and Haitian-Americans in the city today. "In the Midwest there's not a huge population of Haitians," Carlos explains. The museum has become an epicenter for the Haitian community in Chicago, and its role is to connect Haitians of all ages and from different regional areas of Haiti. In Chicago there are pockets of Haitians, primarily in the North Side and South East Side of Chicago, and in Evanston.
How can you celebrate Haitian Heritage Month in Chicago?
I definitely recommend a visit to the Haitian American Museum of Chicago, located in Uptown. You can interact with the oral history platform pioneered by Dr. Courtney Joseph to hear firsthand stories from Chicago's Haitian community. You can also view art and artifacts to learn more!
On view now: 
It's Different Here: An exhibition featuring works from the Jacmel Arts Center
This exhibition features works by artists from the Jacmel region of Haiti. It showcases the unique beauty and cultural expression of their home on the Southern coast. It also showcases how the artists interpret the changes of their region in response to current events.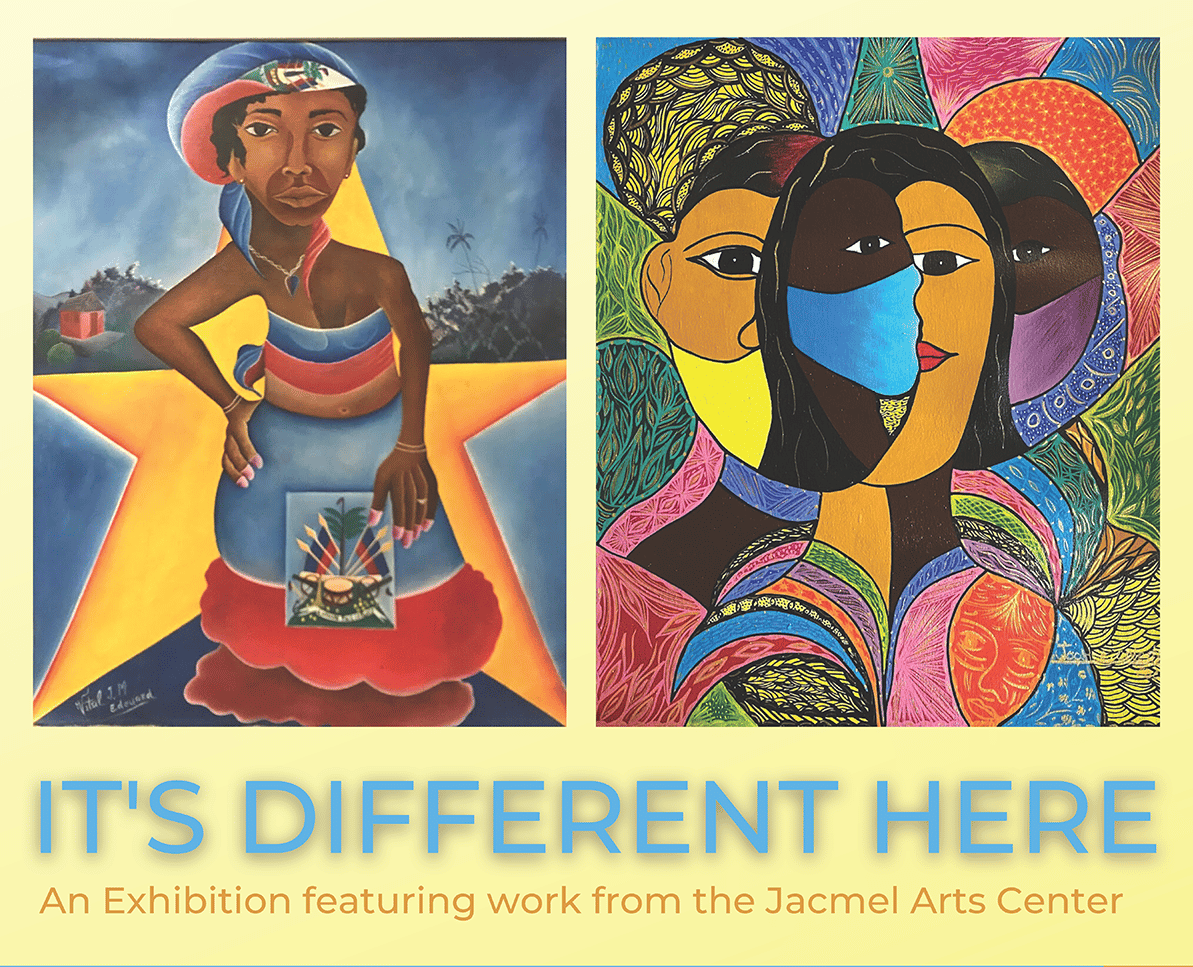 Image courtesy of the Haitian American Museum of Chicago
You can also visit HAMOC's website to view their virtual exhibitions, including a new exhibition, "Faces and Places: Beyond the Headlines – Haiti" by author and photographer Ildi Tilmann. 
View all of HAMOC's events at their website here.
A delicious way to learn about haitian heritage!
Carlos also recommends getting to know Haitian culture through its food and its music!
If you stop by the museum, you can pick up their coloring book about Soup Joumou. This hearty squash or pumpkin-based soup is traditionally served to commemorate Independence Day on January 1. It is so important to Haitian heritage that it was recently added to UNESCO's "Intangible Cultural Heritage List." If you want to try some Haitian food before January though, check out Kizin Creole for authentic favorites like marinad (spiced fritters) and griyo (fried pork).
Finally, connect with Haiti through its music. Carlos recommends the work of Nathalie Joachim, a Grammy-nominated flutist, vocalist, and composer, whose work spans many genres, but who always draws inspiration from her home country of Haiti. You can view an excerpt from her piece "Fanm d'Ayiti" (Women of Haiti) here:
Thanks to Carlos Bossard and the Haitian American Museum of Chicago (HAMOC) for their help with this article.
Marie Rowley, Marketing and Communications Manager