Each of the 45 Core Members of the Chicago Cultural Alliance does important work to preserve, celebrate, and share a specific cultural tradition. Beyond this, though, many of them also serve as important anchors for their neighborhoods. They are much more than museums, archives, or galleries. They are serving their communities both inside their buildings and out in the public spaces of Chicago's diverse neighborhoods.
While visiting OPEN Center for the Arts' recent 8th anniversary party, it was exciting to see how important OPEN Center is to so many people. It is more than just a gallery or cultural center. It is an integral part of the Marshall Square and South Lawndale neighborhoods.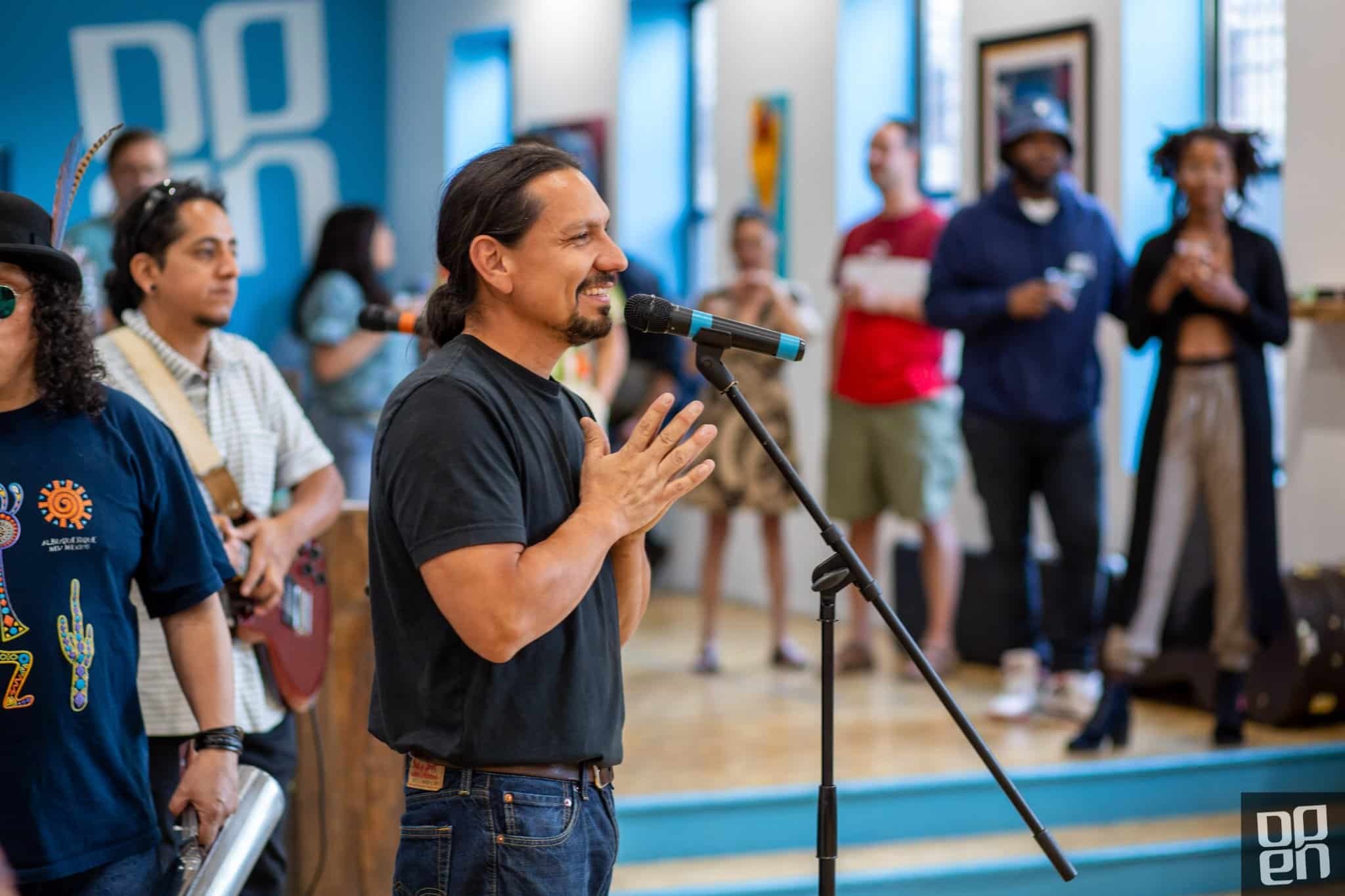 Founder and Executive Director Omar Magana addresses the crowd at OPEN Center for the Arts' 8th Anniversary party. Photo courtesy of OPEN Center for the Arts
Another example of a Core Member that serves as a neighborhood anchor is the DANK Haus German American Cultural Center. It consistently works to balance its mission of sharing German heritage and history with outreach into the Lincoln Square neighborhood. Though DANK Haus may serve its community in slightly different ways than OPEN Center for the Arts, it is also a bedrock institution for its neighborhood.
To learn more about how each cultural center has developed such strong community ties, I interviewed Monica Jirak, Executive Director of DANK Haus, and Fernando Aburto, Development Manager of OPEN Center.
BEING A CULTURAL RESOURCE
Like all of the Core Members of the Chicago Cultural Alliance, DANK Haus and OPEN Center for the Arts provide vital cultural programming. By acting as a resource for cultural knowledge, traditions, and heritage, they serve their surrounding communities.
DANK Haus has seen the neighborhood around it change over time. "Back in the '70s was really the heyday of German culture in this neighborhood," explains Monica. As German businesses in the area closed over the decades since then, DANK Haus has worked to document their history. "We want to preserve and promote their legacy," Monica explains. "So it's not forgotten and so that future generations can be reminded of what existed." Their extensive archives preserve the history of the community, and their museum tells the story of Germans in Chicago.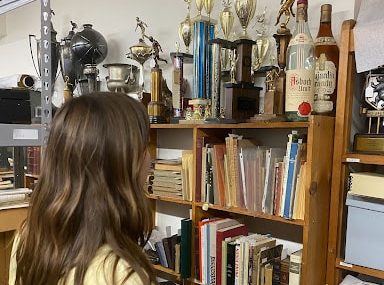 Museum Director Rosa Gallagher surveys a portion of DANK Haus' extensive collection of artifacts, documents, and records from the German American community. Photo by Marie Rowley
They also offer contemporary cultural programming, like German language classes, "Kaffee, Kuchen & Kino" (coffee, cakes, and a movie), and German cooking classes. Their goal is to share German culture with everyone. "I feel like with all of our programming it may help to know a little bit of German," Monica explains "But really we want to be accessible and open and inviting to everyone in the neighborhood."
Much of OPEN Center for the Arts' cultural work is driven directly by the needs of their neighborhood. For example, several years ago parents from the nearby schools needed a space to host a Posada, a traditional Mexican Catholic Christmas event. OPEN Center agreed to organize the event, bringing together participants from across the community. "We had to stop people from coming in at one point, it was so packed," Fernando recalls, smiling. Everyone on staff agreed this had to become an annual tradition, and they soon added Día de los Reyes and Candelaria celebrations. It's clear OPEN Center's holiday events have become an important neighborhood tradition; after a couple years with limited capacity due to COVID, community members are already asking if 2022's festivities will be back in December.
OPEN Center's COVID-safe "express" Día de Los Reyes event in January 2021. Photo courtesy of OPEN Center for the Arts
CONNECTING TO THEIR NEIGHBORHOODS
Despite having different origins, missions, and audiences, both organizations serve as strong neighborhood anchors through a mix of community outreach and creative cultural programming.
With a mission of being open to artists at all stages, OPEN Center for the Arts is actively engaged with the children of its community. "We have three schools within a block of us, and some of them do not have an art program," Fernando explains. "We feel like we serve our community in this way." One of their programs is Wild Marshall Square, where 4-6-year-olds learned about endangered species and then drew their own versions. Their artwork was then entered into an art show, with critiques and juries, just like their adult contemporaries. The winning drawings were made into sculptures, and displayed at Lincoln Park Zoo.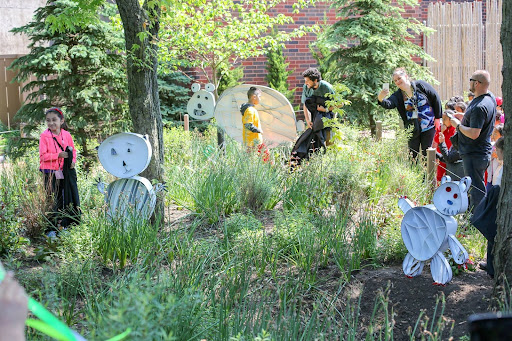 Winning polar bear sculptures from Wild Marshall Square project. Photo courtesy of OPEN Center for the Arts
DANK Haus connects with its neighborhood through creative programming too, though the audience might be slightly different. Taking advantage of the full working bars on premises, DANK Haus hosts regular "Neighborhood Nights," with beer and a chance to meet your neighbors. Similarly, a recent popular event has been Elternabend, or "Parents' Night Out," which includes dinner, drinks, and (perhaps most importantly) childcare.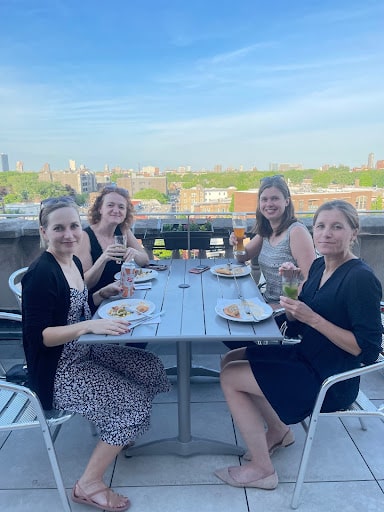 The Terrasse (terrace) at DANK Haus is a welcome space for events like Elternabend. Photo courtesy of DANK Haus.
Each center connects with their neighborhood through direct service and outreach as well.
"There are a number of ways we feel like we're a part of Lincoln Square," Monica explains. Through booths at neighborhood festivals like Maifest, Oktoberfest, and Apple Fest, DANK Haus is able to meet their neighbors face-to-face to talk about the organization and share in the community's seasonal celebrations. They're also an early voting site for the precinct, and they have a German-immersion preschool and kindergarten on premises.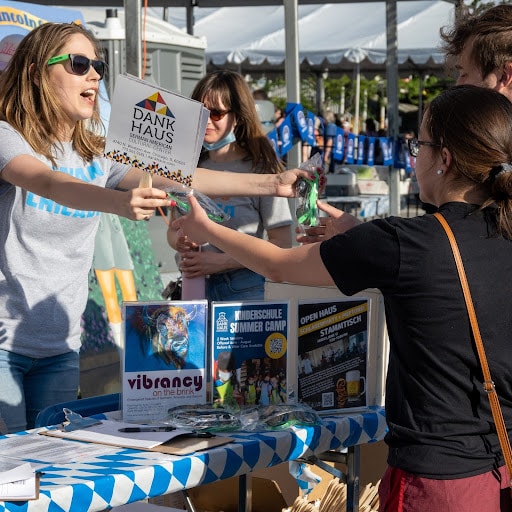 DANK Haus staff at Maifest 2022. Photo courtesy of DANK Haus German American Cultural Center.
Fernando explains that they've become so strongly connected to their community through constant outreach. "One way we build those relationships is just being out there talking to people," he says. "And another is being here every day that we can, so people in the neighborhood can come into the space." Another connection Fernando points to is the Marshall Square Resource Network. "We are really grateful to be a part of MSRN," he says. "We are really a network. We share resources with each other."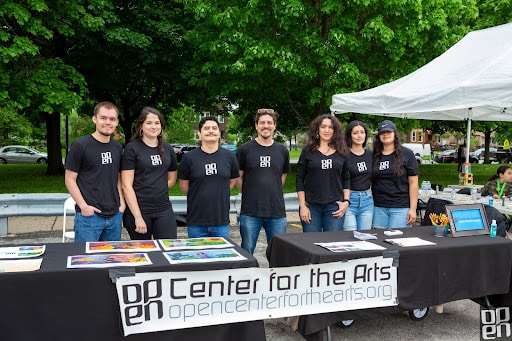 OPEN Center staff ready to connect with their community at the Marshall Square Resource Network's Education + Wellness Summit, May 2022. Photo courtesy of OPEN Center for the Arts.
CHALLENGES FOR SMALL COMMUNITY CENTERS
Both find that as small cultural centers, it can sometimes be hard to get people to come through the doors. Even with constant outreach, there are still people in their neighborhoods to connect with.
"We have been around for a very long time, and still sometimes people in the neighborhood are just learning about us," Monica says. "But really that's just an opportunity for us to open up our Haus even more to our neighbors." One way they are doing this is by converting their first-floor space into the Trefftpunkt, a gallery and cafe space that will welcome passersby into the building and make them feel at home. One of DANK Haus' core values is Gastfreundschaft, or hospitality, and they plan to put that into action in their new space, scheduled to open next year.
Fernando says they sometimes face the exact same issue. "We still have people 8 years later that walk into our space saying 'I live 2 blocks away, how have I never seen this before?'" he says. For them, community outreach is key. After two years of being mostly closed to visitors due to the pandemic, their recent 8-year anniversary party kicked off their new slate of in-person programming and gallery events. They're also working more on expanding their connections. "Since 2020 our connections with North Lawndale have gotten stronger and stronger," he explains. "We realized we're working on the same things, but we're working on them separately. It used to be the South Lawndale this, the North Lawndale that – now we are coming together to host these events as one community, Lawndale."
Bringing the community together for the Lawndale Peace Party in 2021. This summer the community is hosting a series of expanded events. Photo courtesy of OPEN Center for the Arts
VISIT THESE NEIGHBORHOOD CULTURAL ANCHORS
One of the best ways to get to know Chicago's neighborhoods is by visiting one of the cultural centers that preserve their history and serve their communities. Check out all of the Core Members of the Chicago Cultural Alliance!
DANK Haus German American Cultural Center and OPEN Center for the Arts are always keeping busy. Drop by for a visit, or check out these upcoming events:
DANK Haus German American Cultural Center
4740 N Western Ave
Neighborhood Nights
Thursday July 14, 7pm
Open Haus Stammtisch – Back to the '80s
Friday, July 15 – 7:30pm
Elternabend – Back to School Edition
Thursday, August 4 – 6pm
OPEN Center for the Arts
2214 S Sacramento Ave

Lawndale Peace Party
Douglass Park, 2950 W 19th St
Sat, July 23, 11am to 2pm
Lawndale Arts Festival
Douglass Park Community and Cultural Center, 1401 S Sacramento Dr
Sat, August 6, 11am to 7pm
Lawndale Cookout
Douglass 18 Mini-Golf Course, 1401 S Sacramento Dr
Sat, Aug 20, 11am to 2pm
Special thanks to Monica Jirak of DANK Haus German American Cultural Center and Fernando Aburto of OPEN Center for the Arts for their help with this article.
Marie Rowley, Marketing and Communications Manager