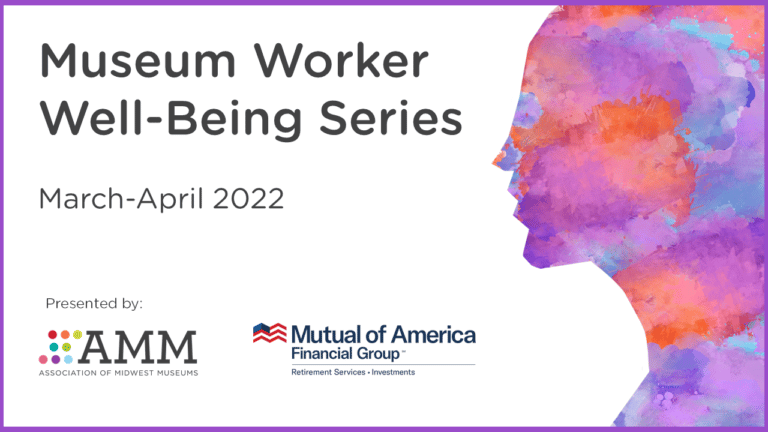 The Association of Midwest Museums has teamed up with Mutual of America to provide virtual programming to explore ways in which supervisors and museum leaders can better support the well-being of museum workers. Programs in this series will be a mix of opportunities to learn, have fun with your peers, gather new ideas, relax and recharge.
All are welcome! This series is FREE.
Upcoming events:
Lunchtime Leadership Chat: Employee Needs, Well-Being, and Belonging
April 18 at 12:30 p.m. CT (1:30 p.m. ET)
In what ways are Midwest museum leaders prioritizing and supporting staff needs and well-being at this time? How are they ensuring individuals feel included and a sense of belonging? What have been the greatest challenges as they addressed new needs that have developed in recent years, in an attempt to maintain morale and prevent burnout? How are leaders prioritizing or making space for their own needs, mental health, and well-being? We'll explore these questions during a 60-minute moderated panel discussion with executives from AMM member museums, including time for Q&A.
Panelists include:
Juliette Francis, Vice President of People and Museum Culture, Science Museum of Minnesota, St. Paul, MN
Monica Walker, Human Resources/Administration Director, Dayton Art Institute, OH
Beth Whisman, Executive Director, Children's Discovery Museum, Normal, IL
Session will take place in Zoom Webinar. Participants are encouraged to join the discussion as they are comfortable via the chat. Session will be recorded. ASL Interpretation and Zoom's built-in transcriptions will be provided.
Midwest Museums Connect Meetups
These casual conversations are a safe space to hash out your daily struggles with your colleagues. Sign up to receive the Zoom login information.

April 22, 10:30 a.m. CT – Volunteer Recruitment and Engagement: How are you approaching volunteer recruitment and engagement this year? What's new/different about the process? How are you supporting volunteers' needs and addressing expectations? What benefits do you offer to volunteers? What steps have you taken to enrich their experience?